Senior GIS major earns Institute for Study of War internship
Star Hill native Thomas Bergeron, a senior Geographic Information Science (GIS) major at Louisiana Tech, has earned an internship with the Institute for the Study of War (ISW), a non-partisan think tank focused on gathering, analyzing, and disseminating accurate intelligence from hot spots around the world in order to better inform United States national security policy and military strategy.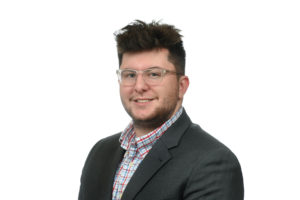 "This is a great opportunity for Thomas and reflects the outstanding training and mentorship of Tech's GIS faculty — Dr. Michael Crosby and Dr. Irene Casas," Dr. Christopher Keyes, Director of Tech's School of Agricultural Sciences and Forestry, said. "Thomas is unsurprisingly our Academic Year 2021-22 Featured Student representing the GIS major."
"Louisiana Tech prepared me by giving me the proper technical experience in order even to qualify for the internship, but it's also given me the foundation I needed to perform well in a professional setting," said Bergeron, a West Feliciana High graduate from St. Francisville. "I have had chances to follow, chances to lead, and chances to work and to excel under pressure."
The Institute is based in Washington, D.C. Bergeron's remote internship will run Jan. 10 through May 25.
"I would describe the Institute as a place to get things done," he said. "Despite all the partisan, silly, and scary things in this world, this is the kind of organization that fulfills the philosophy I live by; 'If not me, then who?'"
Founded in 2007, the Institute for the Study of War advances an informed understanding of military affairs through reliable research, trusted analysis, and innovative education, committed to improving the nation's ability to execute military operations and respond to emerging threats in order to achieve U.S. strategic objectives.
"Since I met Thomas, he has shown interest in topics related to intelligence, strategy, conflict, and various types of organized movements," Casas, a professor in Tech's School of History and Social Sciences, said. "He has been building knowledge in these areas through classes and his own personal research. So I am not surprised he was chosen.
"Thomas works hard for what he wants, and he has wanted to be a part of the institute for a while. He is determined and perseverant, always looking for new prospects and wanting to learn as much as he can about GIS and its application to various fields. This internship will be a steppingstone for Thomas, helping him build his resumé and hopefully opening new opportunities leading him to a job at the National Geospatial-Intelligence Agency."
Crosby, assistant professor in Tech's School of Agricultural Sciences and Forestry, thinks Bergeron was chosen because he prepared himself for the opportunity.
"Certainly he has the background in spatial analysis, but in his directed electives, he has pursued coursework in sociology, political science, geography, spatial intelligence, history — information warfare and modern Russia as higher-level electives," Crosby said. "He has always had an interest in foreign relations and foreign service and is keenly aware of global geopolitical developments and interested in the potential outcomes. I assume the ISW saw this preparation in Thomas and his ability to think spatially and contribute to projects that will provide analysis and information to policymakers."
Although Bergeron's career choice deals in informed analysis, his winding up at Tech was somewhat of a dart toss in the dark. His first college choice fell through, and he had a friend who needed a roommate in Ruston.
"This will be a very common theme, as it turns out the things that have worked out best for me have been surprises and off the planned course," Bergeron said. "But anyway, when I was finalizing my decision, the big draw for me was the attention to detail in every little thing that Tech did while I was a prospective student. I also appreciated how welcoming everyone I had met had been and the emphasis put on the 'Tech family.' I felt very excited to be invited into the fold."
Bergeron came to Tech as a computer science major but decided in less than a month of classes that "it was not for me," he said. "Much like how I decided to come to Tech, I stumbled upon GIS on the Tech website. I read up on GIS more, set up an appointment at the Career Center, and finally decided that this was the major for me. I wanted to combine my interest in my background in environmental science and geography and my interest in computer technology, and GIS was the perfect mix."
He didn't become either a senior at Tech or an ISW intern by himself, he said. His parents Sarah and John, "every professor I've ever had, particularly Dr. Crosby and Dr. Casas for being the most integral mentors I have had in my college experience," are at the top of his thank-you list.
"I would also like to give thanks to the Louisiana Tech Swim Club, Louisiana Tech GIS Society, and my fraternity, Phi Delta Theta," he said, "for providing me friends and experiences that have helped shape and prepare me for my future."
"Dr. Crosby and I support our students in exploring their personal interests in the field of GIS through independent studies and our advanced courses," Casas said. "We try to expose them to the state-of-the-art science, technology, and applications in GIS so they can be highly competitive. But Thomas deserves all the credit."
"This will be a real shot in the arm for his career as he continues to marry methodologies from a diversity of fields and to the myriad applications and eventualities with which he will be presented," Crosby said. "Two quotes come to mind — one attributed to Abraham Lincoln: 'I will study and get ready and someday my chance will come.' The other from E.O. Wilson: 'We are drowning in information, while starving for wisdom. The world henceforth will be run by synthesizers, people able to put together the right information at the right time, think critically about it, and make important choices wisely.'
"The former informs the latter," Crosby said. "Thomas prepared himself, took chances, and worked hard; this has prepared him to be able to put together information that, over the longer course, will matter to us all."