Dr. Chris Heidenreich enjoys busy first quarter as new Band of Pride Director
If you have been to any Louisiana Tech University sporting events, you may have noticed a new face in the crowd.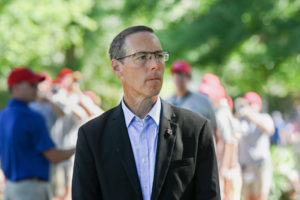 Dr. Chris Heidenreich recently joined Louisiana Tech as the University's new Director of Bands.
Dr. H., as his students call him, is originally from Cleveland, Ohio where he is a huge fan of the Cleveland Guardians and the Cleveland Browns.
"My grandparents were season ticket holders when both teams played at old Municipal Stadium in downtown Cleveland, and I remember when the baseball team was so desperate to put people in the stands they sold two tickets for the price of one at Burger King," he said. Most recently though, his family lived outside Flint, Michigan.
Heidenreich and his wife Beth have been married just over 30 years and have two children, Jillian and Daniel. Jillian is pursuing a doctoral degree in Occupational Therapy at the University of Indianapolis. Daniel is a senior, or "firstie", at the US Air Force Academy in Colorado Springs and will continue his training as a Combat Rescue Officer in Albuquerque, New Mexico, after he graduates.
Heidenreich was attracted to Louisiana Tech by the ability to oversee an entire program and to get back into marching band.
"The reason I got into teaching music was almost entirely because of my love for marching band in high school," Heidenreich said. "I wanted nothing more than to be a high school marching band director, so this is so much fun for me to be back with an ensemble like the Band of Pride."
Heidenreich's move to Ruston can be summed up in one word – crazy! After he got the job, Heidenreich moved to a one-bedroom apartment for most of the fall while his wife stayed in Michigan. In late October, they loaded up a moving truck and drove back to Ruston with their two cats, Freddie and George, named after characters in the Harry Potter novels. After five delays from the movers, they were able to move into their new house in November 2021.
Not only was his move to Ruston chaotic, Heidenreich was also coming into a job with a grand history.  Jim Robken had been the Director of Bands at Louisiana Tech for about 30 years and left a mark on the campus and the Ruston community.
"There is no doubt that Mr. Robken has left a legacy on the program and on his students," Heidenreich said. "The members of the Band of Pride and Hoop Troop take great pride in the spirit that they bring to athletic events and that is directly from Mr. Robken. I hope that with the help of the students, we can carry that energy, enthusiasm, and excitement forward."
Since being at Tech, Heidenreich has been impressed with the willingness of students and faculty to assist in the logistics of operating a band program and with how important bands are to Louisiana Tech and to the community as a whole.
"I literally jumped in feet first to the position because of how late I was hired, and at every turn I have been asked how it is going and how can we help," he said.
Heidenreich has big plans for the future of the Band of Pride.
"In the School of Music, I hope that we can recruit more students to major in music or pursue one of our minors in Music or Music Industry Studies," Heidenreich said. "I have been so impressed with how much the faculty of the School of Music does for students, and I believe the course offerings and curriculum is set to see the programs take off in an exciting new direction."
This story was written by Communication student Leslee Bennett.