Students take part in poverty simulation
Over 200 Louisiana Tech students, mainly from the College of Applied and Natural Sciences, took part in the Community Action Poverty Simulation designed to teach them about the challenges people suffering from poverty face on a daily basis.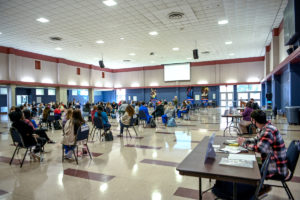 "Many of our students will work with individuals who face a wide variety of challenges," said Dr. Julie Rutledge, director of ENRICH Center. "It is important, especially as emerging professionals, that our students start thinking about the concerns some of the individuals and families they will be serving may have."
The simulations are interactive, hands-on experiences designed to break down stereotypes by allowing participants to step into real-life situations. These situations are designed to help participants rethink the challenges millions of low-income individuals face every day. 
Participants were divided into households of one to six people and tasked with making financial decisions to keep their families afloat. The simulations are designed to help them comprehend how complex and interconnected issues of poverty really are.
During the simulation, students stood in line and hurried to make ends meet. During the "weekend", groups of students worked together to make plans for the next "week".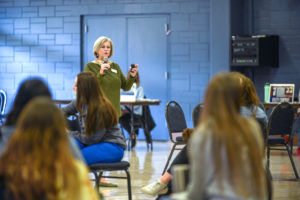 "They are going to go to work, they are going to feed their kids, and they're going to go to the store, the doctor, all of the things that a family would do," said Pam Jacobsen, who serves as a poverty educator with the East Texas Human Needs Network and facilitated the simulations.
Ashlynn Taylor, a graduate student in Nutrition and Dietetics, said her "family's" situation faced many challenges as they progressed through the simulation. 
"We were struggling," Taylor said. "We didn't start with any money at all. The only items we were able to afford were groceries, which was crazy because we couldn't even afford basic needs like the clothes on our back or necessary prescriptions."
Before going through the simulations, Taylor said she believed someone in poverty cannot afford the basic necessities but never thought about how someone in that impoverished situation would feel. After the simulation, Taylor expressed empathy for those who are living in poverty and could understand the emotional stress that these circumstances can cause.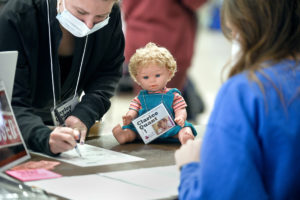 "I walked into this experience thinking it was all about money, but that is not what poverty is about at all," Taylor said. "It is very emotional. I was anxious and stressed throughout the entire simulation."
Rutledge said Louisiana has the second-highest poverty rate in the United States with 19.2 percent of the population living below the poverty line. 
"The southern regions of the U.S. are particularly affected by poverty," said Dr. Rutledge. "Four of the 10 states with the highest poverty rates are in the South, Louisiana being in that top 10."
Wilson Yates, a freshman in Human Development and Family Science, participated in the simulation and then volunteered for the other simulations. 
Through these simulations, Yates said he realized that living in poverty is not people being lazy or lacking the drive to work, it is a difficult balance of trying to make ends meet.
"People in poverty have to balance a job, children, paying a mortgage and utilities while also trying to find time to complete basic tasks," Yates said. "There is a popular belief that people should pull themselves up by their bootstraps but these people don't even have boots."
Through these simulations, students like Taylor and Yates have the opportunity to gain experience in order to be difference makers in their careers for the underserved in our communities. 
"There is no one solution to poverty within communities or the health outcomes associated with poverty and these health outcomes are related to physical health, mental health, academic access and outcomes, and more," Rutledge said. "It will take the talents and passions of people in fields like medicine, mental and social services, advocacy workers, and nutritionists and dietitians to work together to find opportunities for optimal health outcomes for all members of our society."
This event was made possible through the ENRICH Center and the College of Applied and Natural Sciences. Louisiana Rep. Chris Turner donated water and snacks for the simulations. 
"We are grateful for the support of Louisiana Tech University and our College, Applied and Natural Sciences, to be able to provide unparalleled learning experiences for our students especially hands-on experiences they can take with them into their careers," Dr. Rutledge said. "Through generous donations to the ENRICH Center, we are able to provide these kinds of experiences and bring in outside experts to facilitate them, bringing unique expertise and perspectives for the campus community."
To learn more about the research happening across Louisiana Tech's campus, visit the Research section of our News site.