Music Performance major helps lead Band of Pride
As the Louisiana Tech University Band of Pride stands at attention waiting to perform, Slidell native Madison Prattini, one of three individuals wearing the distinctive white uniform of the Band of Pride drum majors, mentally prepares to lead them.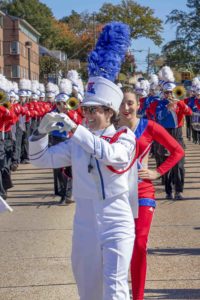 A Music Performance major, Prattini grew up right outside New Orleans, where she was immersed in the rich culture of south Louisiana.
"We have a lot of Italian-American [which is part of Prattini's heritage] and Cajun culture," Prattini said. "There's music that stems from that like jazz influences, second-line bands, and of course, great food."
Prattini's Louisiana Tech journey didn't begin in the School of Music. When she toured Tech's campus, Prattini loved the facilities and was excited to start as a Mechanical Engineering.
"I fell in love with the old building Bogard Hall," Prattini said. "Even though you spend all your time in the basement, there was just something really fun about spending time with your peers like trying to learn new things."
Going into her second year, she realized even though she liked Mechanical Engineering, she loved Music more.
"I still loved Tech and I've had some awesome Music teachers here, so I didn't want to leave," she said. "I wanted to stay and study with them."
Prattini said she had been inspired by Dr. Trevor Davis, Assistant Professor, Single Reeds and Director of Jazz Activities.
"No matter what I was doing, no matter if I was having a good day, bad day, or what was going on, he was always there," Prattini said. "He has always been a supporting factor, and he always encouraged me to work hard and work diligently to achieve my goals even if they weren't always musical goals."
Prattini is involved in the university jazz ensemble one, pop ensemble, symphonic and concert bands, band fraternity Tau Beta Sigma, formerly the low brass service fraternity TYBA, and also chamber work with Davis.
She has been recognized for her service in the School of Music as well, winning awards for Most Outstanding Student Worker, The Pride Award, and The Citizenship and Service Award.
When she graduates, Prattini would like to attend graduate school to study Music.
"Right now, I'm currently auditioning for different schools," Prattini said. "I want to go to grad school and study clarinet performance and either get a minor or a certificate, whatever is available at the program, in music theory and jazz studies."
Prattini is set to graduate in Spring 2022 and is excited for what her future in music has to hold.
This article was written by Communication major Leslee Bennett.