EngageEducation welcomes potential young educators to campus
Identifying a need for more targeted recruitment in area parishes and counties, Louisiana Tech's Department of Curriculum, Instruction, and Leadership (CIL) in the College of Education decided to create an event that would welcome students to campus and show them the types of things that go on in the day-to-day lives of educators.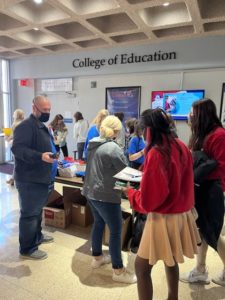 And so was born the recent inaugural EngageEducation event on Tech's campus.
Students were able to select an area of interest — early childhood education, elementary education, or secondary education — and participate in sessions led by current teacher candidates in the CIL program. Nearly 50 junior and senior high school students from five parishes — Lincoln, Webster, Caddo, Ouachita, and Union — participated.
"It was great to see the students engaged in the sessions and to see them gain an understanding of the knowledge and skill sets needed to be an effective teacher in the classroom today," Dr. Dustin Whitlock, assistant professor of secondary education in the CIL, said. "It was encouraging to see high school students visit our campus and show the passion they already have for being an educator in the future."
The program had sessions in elementary literacy and social studies, pre-kindergarten–5th grade STEM, Secondary STEM, and general secondary. In these sessions, students were able to see the "How?" and "Why?" of classroom activities and the science behind designing classroom instruction.
Students also were given a campus tour by Tech's student recruitment office.
"As this was the first time for the event to be hosted, we were a little unsure of what the turnout would be, but we had a great response from the schools across North Louisiana," Whitlock said. "Our goal is to make this a yearly event to showcase our program and our current teacher candidates.
"We are incredibly grateful to our sponsor, Louisiana National Bank, who cooked and served lunch for all of our participants. We look forward to hosting this event again each year."
Senior Kinleigh Crank of Captain Shreve High School was awarded a $1000 scholarship from the College of Education.