Sophie Fijneman finds family 5,000 miles from home
Three years ago, Sophie Fijneman made the 5,000-mile journey from the Netherlands to Ruston to play soccer for Louisiana Tech University.
Since that time, the Industrial Engineering major has played 51 matches and started in 32 for the Lady Techsters.
"I first decided I wanted to play soccer in the states when I was 14 or 15," Fijneman said. "I saw on film how sports and the college experience was so different in America than in the Netherlands. I thought to myself, 'I want that!'"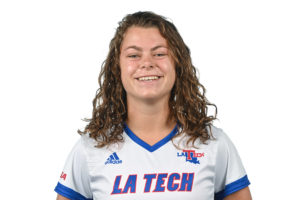 While Fijneman said the American college experience is not exactly like it is portrayed in the movies, she has found her experience in sports to be everything she hoped for.
"It is still strange to me that I get to play soccer six times a week and fly to games," Fijneman said. "I can't imagine doing that in the Netherlands!"
Fijneman's journey involved finalizing many fine details like making her highlight reel and taking her SATs, but when the coaches from Louisiana Tech reached out to her she booked a flight to Louisiana and scheduled a tour.
"One of the ways Tech stood out to me was that they offered a degree in Industrial Engineering; that is what I am studying now," Fijneman said. "I also love the size. I have a small group of friends that I hop from class to class with, and my professors know my name. They are all very understanding when it comes to making trips back to the Netherlands or difficulty coming back to the states."
While Fijneman has now "found her spot," her journey at Tech was not easy.
"Everyone has their struggles getting here and being here, but if you work hard, you can make it," Sophie said. "I struggled being an 18-year-old living on her own on the other side of the globe, but, I put blood, sweat, and tears into this, so I didn't give up.
"It was overwhelming when I first arrived. In the beginning, I didn't even have time to be homesick. While the homesickness did come later, Ruston is home to me now."
The biggest part of Fijneman making a home here at Tech has been her teammates, coaches, and staff.
"Our team is a family on its own," she said. "We've been through a lot together, and that shows on the field."
The soccer team was in the process of rebuilding its facilities after the tornado of 2019 Sophie's freshman year. COVID-19 brought a new set of challenges to their 2020 season. Despite these hardships, the team has continued to rise with more grit and determination than before.
"Everything we went through made us stronger as a team and more willing to work hard for each other," Fijneman said. "When you are a part of a family like this, you will go that extra 10 yards for your teammate. After I leave, I hope the team continues to love being at Louisiana Tech and playing together. I also hope they work hard and never give up."
This article was written by Marketing major Sophie Edwards.