Biomedical Engineering Building to be renamed to honor Reneau
Thursday, the University of Louisiana System Board approved a proposal to name Louisiana Tech University's Biomedical Engineering Building for former president Dr. Daniel D. Reneau, whose vision in 1972 led Tech to start one of the first biomedical engineering programs in the nation.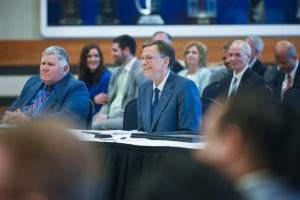 "Dan Reneau came to Louisiana Tech in 1967 as a faculty member and then served 26 years as president of our beloved institution," said Tech President Dr. Les Guice. "I believe, when we mark the 200th anniversary for our University in 2094, people will say he had the greatest impact and was the longest-serving president in Louisiana Tech's history. His achievements are too vast to list them here, but he built the foundation for our current success as an institution."
The motion passed unanimously, and Board Member Alejandro "Al" Perkins noted Reneau's service to the UL System as its interim president in 2016.
"Dr. Reneau served as a strong leader for our system," Perkins said, "and during his tenure at Louisiana Tech, the University showed great performance in both athletics and academics. Not all universities can say that."
ULS President and CEO Dr. Jim Henderson acknowledged Reneau's impact on the state through higher education and his work with the System.
"The most important thing a leader can do for their legacy is to establish the groundwork for future success of the institution," Henderson said. "Dr. Reneau certainly did that for Louisiana Tech, and he was here when the Board needed a hand to direct the System. He did 10 years of work in 10 to 11 months while he led the system, and we are indebted to him for his hard work and vision for our state's future and the impact of higher education."