Nursing grad Kenzie Gaspard aims high
The sky's the limit — and also the target — for Louisiana Tech Nursing student and ROTC cadet Kenzie Gaspard, whose professional goal is to become a flight nurse with the United States Air Force.
Gaspard, who'll be awarded her Associate of Science in Nursing at Winter Commencement Saturday, came to Ruston from the crawfish ponds and rice fields of her quaint Forked Island hometown in Vermillion Parish with only a faint idea of what she wanted to study. She's since become an ideal example of a young student willing to ask questions, gather information, notice what's going on around her, think clearly, then put in the work needed to seize opportunity.
"Kenzie has a special level of dedication, focus, and commitment to nursing and to her career goals," Dr. Donna Hood, Associate Dean for Undergraduate Studies and Professor in Nursing in Tech's College of Applied and Natural Sciences, said. "One faculty member described her as 'fearless — in a good way.'"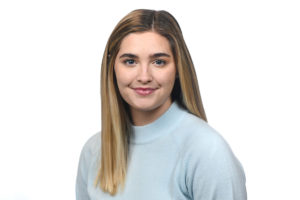 From a Cajun existence of ferry landings and shrimp burgers and alligator farms, she came to north Louisiana to study Engineering. She'd enjoyed her anatomy and physiology and math classes at Kaplan High. Her sister Prophet, who'd taken engineering classes at Tech, encouraged her to try it out, so she found Biomedical Engineering.
But one Tuesday — the day Tech ROTC cadets wear a military uniform all day on campus — curiosity got the best of her.
"I saw a cadet walking around in Blues and started asking around," said Gaspard; it was suggested she visit the ROTC office on Wyly Tower's 14th floor.
"As I learned about different career fields the Air Force had to offer, I realized I wanted something more hands-on in the medical field," Gaspard said. "I spoke with a (military) flight nurse; it sounded exciting."
The mission of a flight nurse is to provide lifesaving emergency and pre-hospital care. If a patient needs transport through air, the flight nurse plans the mission from boarding to deplaning and provides comfort and medical safety along the way.
That's all Gaspard needed to know; she applied to Tech's award-winning nursing program.
Following Saturday's commencement, Gaspard, C/Lt Col, AFROTC, and a regular on Tech's honor roll, will continue to live and work in Ruston, fulfill her ROTC obligations, and pursue her BA online from NSU with graduation expected in May 2023.
"We call it a 'crosstown' cadet," she said. "After earning my BA, I will commission and be stationed to training."
On the way to her Tech degree, she was awarded an Enrollment Allocation (EA) in nursing, which is "like a ticket to enter and compete for a slot to go to Field Training between your sophomore and junior years," she said. "Nursing EAs are not very common, and it's competitive."
The training was, Gaspard said, "a tough two-and-a-half weeks."
It was the first time in her life she found herself in a new place with complete strangers and no contact with the outside world.
"It made me stronger mentally and physically," she said. "They pushed us to our limits, and we overcame things as a team. I have absolutely brought that attitude into my school and ROTC life since being back. In just two short weeks, complete strangers became a team fighting toward the same goal, and that is something I will always try to remember as I face any adversity in different aspects of my life, whether it's in nursing or the Air Force."
Or both. Gaspard has time to decide which she might want to pursue as a career. Right now, she wants to earn her BA, become a full member of the USAF, then compete for a flight nurse position, something she can't meet the requirements for until after she has her BA and commission.
But she's on the path.
"Nursing and ROTC are time-consuming and can be a lot to handle," she said. "But, at the end of the day, I want to be in a position to serve others. Both the Nursing program and ROTC program have taught me that it doesn't matter where you are, or who are: I will meet you there and ask no questions to give a helping hand."
She'd never have known without her curiosity. But once she asked, Tech answered her questions. And, with a price she was willing to pay, she's answered Tech's.
"ROTC comes with its challenges," she said. "There are many responsibilities and time commitments that can be hard when combined with a rigorous nursing program. But it's been such a great learning experience and has opened many doors for me. I've met so many people and have learned not only about my leadership capabilities but also about my capabilities as a follower.
"I didn't know programs like ROTC existed before moving to Ruston," she said, "but I'm sure glad I found it."