Samuels advises Winter 2022 grads, 'Walk into your fear'
In its 339th commencement exercises, Louisiana Tech University conferred degrees on 319 graduates.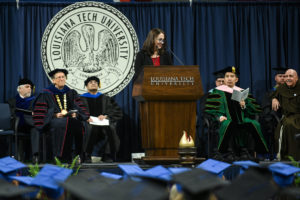 Commencement speaker Katie Samuels, a two-time graduate of Louisiana Tech, challenged graduates to face uncertainty and fear on their paths in the future.
"Why is being able to deal with challenging situations important?" Samuels said. "First, we all recognize that challenges are a part of life and we'll need to have the ability to deal with them. The more powerful reason is that working through challenges not only helps us achieve our goals, but it is also 'good for us.'"
Success is born from facing challenges and overcoming them – sometimes failing – multiple times, Samuels said. An individual's work to overcome two types of challenges can be empowering.
"The first type might occur in work or family or social situations. The challenge may ignite a classic phobia, or a fear of failure or rejection, or negative impacts on your job," Samuels said. "A lot of challenges will find you throughout your life. The key is to face them and learn from them."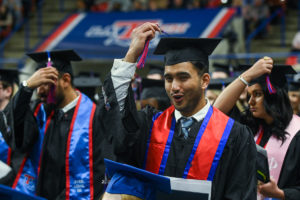 Samuels said the second type of challenge for graduates face was the one that they would choose for themselves.
"You seek those challenges and walk into your fear for your growth," she said. "These bring you even more benefit, because they are targeted in the direction of your personal goals and help you reach your full potential."
Louisiana Tech graduates, she added, are uniquely prepared to face environmental or chosen challenges.
"You will fail sometimes," Samuels said. "And if you don't, then you are not asking enough of yourself. Failure is a valuable tool, even a requirement, of success.
"Your time at Tech has changed your life. You have the educational and experiential foundation to move forward from this commencement, this start. To build your capabilities: Lay out your goals, seek out your challenges, walk into your fear and discomfort, learn from your failures. You will have many successes to celebrate."
Samuels earned her bachelor's degree in Petroleum Engineering in 1986 and her master's degree in Petroleum Engineering in 1988 from Louisiana Tech. While she was a student, she served as a leader for Alpha Phi Omega, the Society of Women Engineers, and a number of honor societies.
Since leaving Louisiana Tech, Samuels has served the petroleum industry in a number of roles and has volunteered her time as a mentor for many and as a reader for Sight into Sound, increasing accessibility for books for the blind. She has served as a leader for the Louisiana Tech University Foundation for more than a decade.
Louisiana Tech begins Spring Quarter classes March 9.