Music Education program allows student to have positive influence on future musicians
Music Education is a profession that many seem to overlook. However, Olla native Daniel Wesson knew early on that his path would involve sharing the love of music with students.
"I grew up in a musical family. My grandpa was a band director, and during high school it seemed like the route to go," Wesson said. "I also appreciated how my high school band director, Mr. Herb Bassett, treated his students. I realized that I wanted to be that type of influence to someone else, not only teach them a love of music but to also be a mentor and guide them."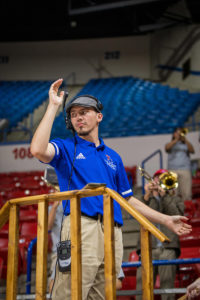 Throughout his life, Wesson was constantly supported by his family but especially his grandfather, James Lee Carroll.
"He always included me in every musical thing that he did. I was 6 years old, and it was a Christmas parade in Olla," Wesson said. "I asked him if I could march with the band, and I cannot believe he said yes but he takes one of those little toy drums and his belt and makes me a little sling. He put me there beside the drummers, and I can honestly say that is probably what started me on the path to where I am now."
The COVID-19 pandemic complicated things for Music Education majors. Many schools were not allowed to have band at all, and so many rules had to be changed for Music majors and those involved in music.
"Inside rehearsals basically became nonexistent," Wesson said. "Doing band virtually is almost impossible, so the music world definitely took a hit when the lockdown happened. It put a damper on things not being able to rehearse the way that we wanted to and then spacing effects phasing like being able to be on time with someone who is across the ensemble."
However, Wesson said the music world has learned to adapt with the changes from the pandemic and has made a lot of good innovations with special masks and bell covers for musicians.
"The hardest thing is not being able to play with people. I have a lot of methods classes where I have to learn all the instruments but with COVID those had to be super spread out and individualized rather than with a group," Wesson said.
Wesson has no regrets deciding to be a music major. For him, the best part about being a Music Education major is the friends that he has made at Louisiana Tech.
"As a freshman I was very antisocial but going into sophomore year I forced myself to make connections and friendships not only with other Music majors but also other musicians. Having these people in my life that are not just my friends but also colleagues has been really special," Wesson said.
After graduating, Wesson plans to teach high school band and mentor the next generation of musicians.
"I love beginner band and more power to the people who can do that but it's not for me," Wesson said. "I want to be in a high school band preferably a 3A or 4A size school. Once I get there I just want to get the ball rolling. Not necessarily go in and change how things are done, but at least be able to build upon what's already there and hopefully improve the band that they have."
Wesson hopes to put his own personality in being a band director the same way his grandfather and high school band director did – and impact the next generation of musicians positively.
This story was written by Communication major Leslee Bennett.