Top students across the region pledge to join Tech at COES Commitment Day
Louisiana Tech faculty, staff, and students celebrated with incoming students and their parents as nearly 100 of the region's top academic high school prospects pledged to join the University's College of Engineering and Science (COES) Class of 2026 at Commitment Day 2022.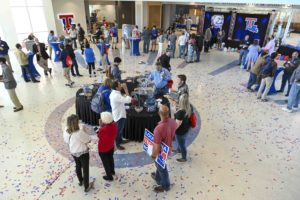 Applicants who earned qualifying scores on the ACT were invited to attend the sixth annual Commitment Day event at the Integrated Engineering and Science Building on Tech's Ruston campus. There, they had the opportunity to take placement exams and meet with Louisiana Tech faculty and leaders, including COES Dean Dr. Hisham Hegab, COES Associate Dean of Undergraduate Studies Dr. Heath Tims, and officers from student organizations and other students from their majors.
Each of the attendees signed a pledge to pursue a degree in one of fourteen majors at Louisiana Tech: biomedical engineering, chemical engineering, chemistry, civil engineering, computer science, construction engineering technology, cyber engineering, electrical engineering, industrial engineering, instrumentation and controls systems engineering technology, mathematics and statistics, mechanical engineering, nanosystems engineering, and physics.
They received COES and Louisiana Tech swag, participated in photo ops with COES faculty, and celebrated their academic accomplishments at a reception with their families.
Hylie Holloway, Biomedical Engineering freshman and Commitment Day 2022 volunteer, attended the 2021 Commitment Day ceremony, which she says helped solidify her commitment to Louisiana Tech and biomedical engineering.
"As a high school senior, what made me love and appreciate Commitment Day was the fact that it felt like I was being acknowledged for my desire to chase after such a challenging degree. I came from a high school where only the athletes were praised for their achievements, and the signing day just showed how special it is to be a part of the College of Engineering and Science. My favorite part about helping with this year's Commitment Day was talking to individual seniors and seeing how excited everyone was. When I was a senior, I had no idea how challenging the curriculum as a freshman in engineering would be. I would almost describe my senior self as being naive to what I was getting into, but I would have it no other way. When I went through Commitment Day, I thought there was no way the experience could have been better. But seeing it now, I could feel the excitement in the air. The balloon drop and the confetti going everywhere while the band was playing were immaculate! What I loved was that many professors were present as well. My main takeaway from then and now is that you are cared about here. I plan to never miss a Commitment Day for the rest of my time at Tech!"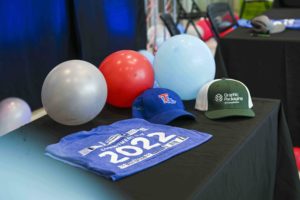 "Commitment Day is a good way for incoming students to introduce themselves to faculty and students they'll be learning and researching within their programs," Nanosystems Engineering volunteer Jonathan Tairov added. "It's a great addition to orientation where students may not meet as many faculty or other students in their fields."
Prospective students still have the opportunity to participate in a virtual ceremony and enter a drawing for a scholarship. If you would like to commit to earning your undergraduate Engineering and Science degree at Louisiana Tech, contact the COES Office of Undergraduate Studies (coesugs@latech.edu).
Commitment Day signees
Sebastian Acosta-Martinez, Biomedical Engineering, Geismar
Randie Arinder, Biomedical Engineering, Stonewall
Colin Arnold, Electrical Engineering, Lake Charles
Ernesto Auerbach, Cyber Engineering, Haughton
Carson Babin, Civil Engineering, Thibodeaux
Cade Barfield, Computer Science, Youngsville
Andrew Barham, Mechanical Engineering, Flint, Texas
Jacob Barnhill, Electrical Engineering, Saint Rose
Sean Bell, Computer Science, Bossier City
Zachary Blackwell, Computer Science, El Dorado, Arkansas
Carter Boone, Biomedical Engineering, Kilgore, Texas
Aaron Boos, Civil Engineering, Covington
Grant Bowling, Mechanical Engineering, Ruston
Courtney Breaux, Chemical Engineering, Houma
Ethan Broadway, Chemical Engineering, West Monroe
Kailie Carrigee, Biomedical Engineering, Destrehan
Matthew Christensen, Computer Science, Leesville
Patrick Day, Computer Science, Baton Rouge
Liam Denehan, Mechanical Engineering, Haughton
Joseph Denton, Electrical Engineering, Harleton, Texas
Connor Driskell, Chemical Engineering, Tyler, Texas
Jonah Drouillard, Mechanical Engineering, Bossier City
Logan Ferguson, Biomedical Engineering, Stonewall
Noah Ferguson, Chemical Engineering, West Monroe
Leah Guardia, Mechanical Engineering, Church Point
Garrett Hammond, Biomedical Engineering, West Monroe
Anthony Helmer, Chemical Engineering, Covington
Trilby Hill, Mechanical Engineering, Sun
Brock Houston, Chemical Engineering, Haughton
Grant Hull, Mechanical Engineering, Flower Mound, Texas
Thomas Johnfroe, Chemical Engineering, Cut Off
Jacob Johnson, Cyber Engineering, Baton Rouge
Steven Johnston, Mechanical Engineering, Fordyce, Arkansas
Nikolai Karpovs, Biomedical Engineering, Lake Charles
Michael Kendrick, Mechanical Engineering, West Monroe
Telemachus Kilpatrick, Chemical Engineering, Covington
Danielle Kropp, Biomedical Engineering, Shreveport
Joshua Lawrence, Mechanical Engineering, West Monroe
Caiden Ledet, Cyber Engineering, Destrehan
Sydney Leonard, Mechanical Engineering, Frisco, Texas
Kellen Lewis, Civil Engineering, Covington
Jordan Lowe, Mechanical Engineering, Logansport
Alex Matus, Electrical Engineering, Prairieville
Andrue Mcmillan, Electrical Engineering, Angie
Chaz McMillan, Cyber Engineering, West Monroe
Robert Moore, Computer Science, Houston, Texas
Andrew Mulhair, Computer Science, Cypress, Texas
Ryan Mulkey, Mechanical Engineering, Slidell
Jacob Murray, Mechanical Engineering, Folsom
Jordan Myles, Cyber Engineering, Monroe
Gage Nail, Electrical Engineering, Springhill
Shawn O'Neil, Biomedical Engineering, Chalmette
Mallory Pesnell, Biomedical Engineering, Minden
Remy Rains, Cyber Engineering, Bossier City
Andrew Roan, Computer Science, Farmerville
Jonathan Rosas, Civil Engineering, Kilgore, Texas
Kayden Roy, Computer Science, West Monroe
Francisco Rubio, Mechanical Engineering, Glenmora
Claire Scott, Biomedical Engineering, Bossier City
Joseph Serpas, Cyber Engineering, Baton Rouge
Isabel Sherrard, Biomedical Engineering, Ruston
John Sibley, Electrical Engineering, Marksville
Jake Smith, Cyber Engineering, Lake Charles
Justin Smith, Mechanical Engineering, Covington
Colby Staffier, Construction Engineering Technology, Franklinton
Aubrey Stark, Civil Engineering, Slidell
Brooklyn Thomas, Mechanical Engineering, Prairieville
Trinity Thrift, Mechanical Engineering, West Monroe
Elisa Tomlin, Mechanical Engineering, Alexandria
Bailey Travis, Mechanical Engineering, Alexandria
Benjamin Turner, Industrial Engineering, Ruston
John Vessel, Mechanical Engineering, Ruston
William Viator, Biomedical Engineering, Youngsville
Cameron Westerfield, Electrical Engineering, Bossier City
Robert White, Instrumentation & Control Systems Engineering Technology, Shreveport
Nicholas Whittington, Civil Engineering, Sterlington
Jonathan Williams, Mechanical Engineering, Deville
Julia Wilson, Computer Science, McKinney, Texas
Kyle Wilson, Computer Science, Bossier City