Time Out for Tech brings future Bulldogs to campus
May 7, more than a thousand prospective Bulldogs are expected to come to Louisiana Tech University's campus for Time Out for Tech, a preview day hosted by the Office of Admissions.
At Time Out for Tech, high school students will be led on group-style campus tours, attend an organization browse, interact with current Louisiana Tech students, and attend a student-led event.
"Time Out for Tech stands out from the other tours we offer because it gives students a glimpse of what life will look like once they are a Bulldog," Emily Poole, Campus Experience Coordinator, said. "With the organization browse and Union Board's Spring Fling later that night, they get a unique opportunity to engage in student life."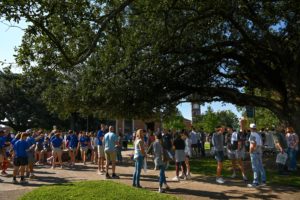 Students will also attend the Big Tech Welcome, a pep rally where the Band of Pride and spirit squads perform.
"Big Tech Welcome is my favorite part of the day," Poole said. "It embodies Tech culture and shows how excited our students are to be Bulldogs; It's not just a show, it's real."
Poole attended Time Out for Tech herself when she was deciding to attend Louisiana Tech.
"Students should come to Time Out for Tech because it will give them a holistic view of the university," Colyn Sevario, student recruiter, said. "You get to see the band, athletics, students … many things that help make Louisiana Tech what it is."
This story written by Marketing major Sophie Edwards.