Spring Fling scheduled for Saturday at Louisiana Tech
Louisiana Tech University's annual Spring Fling provides the perfect opportunity for members of the campus community to relax and have fun with family and friends.
Spring Fling will be held from noon to 6:30 p.m. May 7 in the parking lot at Joe Aillet Stadium. This Woodstock-themed event happens at the end of every school year and is a way for students to de-stress before finals.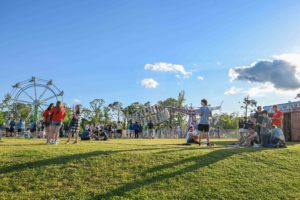 "Spring Fling is special to us because this is the first time in years where we have been able to plan an event at full capacity," said Alejandro Aristizabal, committee chair for Spring Fling. "In the past few years, we've had weather problems or gathering restrictions with COVID."
The event will feature activities including carnival rides, water slides, and cornhole as well as adoptable animals from 4Paws. Food will be served first-come, first-served under the Argent Alumni Pavilion, and we'll have food trucks set up around the grounds serving crawfish, barbecue, ice cream and other treats.
The event will also feature live music from local bands and a headliner concert from Prince of Eden at the end of the day.
"We wanted to demonstrate all of the talent and businesses Ruston has, and so the involvement of the food trucks and local artists has been special to us as well," said Aristizabal.
This story was written by Communication student Leslee Bennett.