Nick Akins: Tech's newest Tower Medallion recipient
Nick Akins, a 1982 and 1986 graduate of Louisiana Tech's College of Engineering and Science (COES) and today Chairman, President, and Chief Executive Officer of American Electric Power (AEP), is the University's newest Tower Medallion recipient.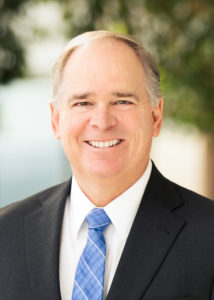 As the recipient of the Tower Medallion, Akins will be inducted by the Louisiana Tech Alumni Association into Tech's Hall of Distinguished Alumni during the University's 2022 Spring Commencement Ceremonies for the COES at 4 p.m. Saturday, May 21, in the Thomas Assembly Center on the Tech campus.
The Tower Medallion Award signifies membership in the Hall and is awarded to Tech alumni who have distinguished themselves by exceptional achievement, community service, and humanitarian activities.
"Nick has been a great friend and supporter of Louisiana Tech," Tech President Dr. Les Guice said. "His leadership in AEP, one of the nation's most important energy companies, has been highly impactful, and he has established a legacy of innovation in safety, reliability and sustainability for the industry."
Akins attended Tech because it was close to home and friends, and because "I was interested in getting a great engineering education — and Tech was known for having one of the best undergraduate engineering programs around," he said. "Also, scholarships were made available that certainly made the cost of college, along with student loans, more affordable.
"Later, after starting work for AEP-SWEPCO, I recognized the need to get further education in computer applications to power and returned to Tech for my master's in electrical engineering. The value of my Tech education and the lifelong friends I made there has been priceless."
In addition to his Tech degrees, Akins has earned additional training through executive management programs at LSU, the University of Idaho, and the Reactor Technology Course for Utility Executives at the Massachusetts Institute of Technology.
Akins and the AEP Foundation have long been supporters of the University. The Foundation graciously presented Tech with a check for the Integrated Engineering and Science Building long before it became a reality.
"STEM education in today's world is important," Akins said, "especially an engineering education. Education is the way to make sure you have the best opportunity for a bright future, and Louisiana Tech provides that."
The University also received a generous gift from Akins, president of the Foundation, in 2017 to support the then-new Academic Success Center, which includes Tech's cyber training center, located in the National Cyber Research Park in Bossier City.
"Nick has for so long been a positive difference-maker for his University," Tech Vice President for University Advancement Brooks Hull said. "His impact reaches campus-wide, far beyond the College of Engineering and Science. The investments he's made in Tech's present and future and how he's represented both himself and his school in the past makes us happy and proud to pay tribute to him in this way. Nick deserves the highest honor the University can grant him."
Under his leadership, AEP continues to invest in modernization and security of the electric grid, resource diversification, and technology and innovation to enable the transition to a clean energy future while preserving universal access to the grid. Through strategic partnerships and collaboration with customers, Akins has positioned AEP to redefine the future of energy and embrace the transformation sweeping the industry.
And he continues to help Tech position itself as leader in higher education.
"My family — wife Donna, sons Chris and Matt, my sister Patti, and brother Rick, who also graduated from Tech — are very proud and excited to be honored this way," he said. "My mother was able to come to my very first Tech award — Electrical Engineering Sophomore of the Year, the David Johnson Scholarship. She passed away from cancer when I was in graduate school, but I know she would have been very proud as well."