Tech students collaborate on Chennault Museum mural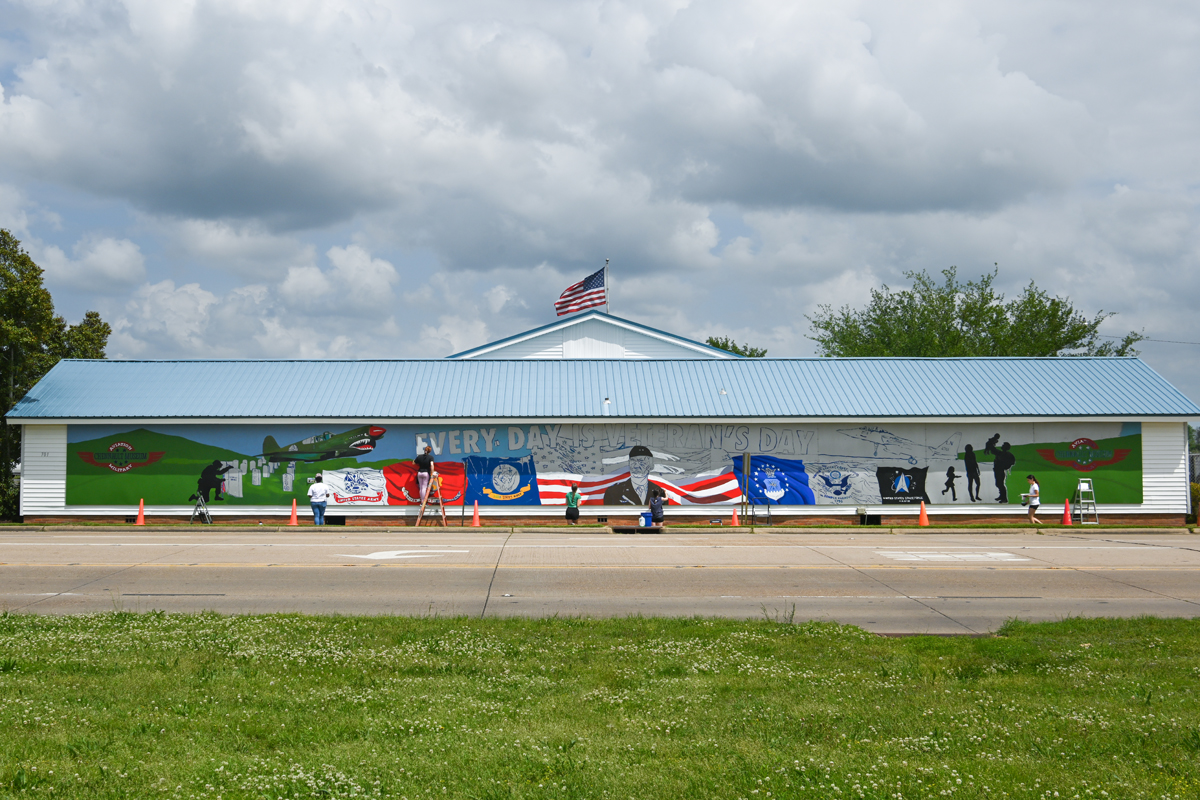 Monroe's Chennault Aviation and Military Museum will soon have a new mural designed by Louisiana Tech University's Art 427 Advanced Drawing studio to honor veterans for their service and sacrifice.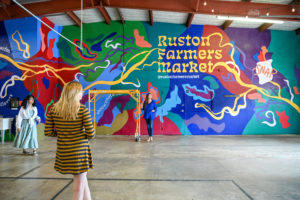 "Murals have an amazing ability to help form connections between artists and the community," said Whitney Causey, Assistant Professor of Studio Art at Louisiana Tech. "The focus of this mural was to highlight the sacrifice made by so many, within all branches of the military"
For the past two spring quarters, Causey's class has fully designed and executed murals for local organizations. Last year, her studio created the interior mural for the Ruston Farmers Market.
The mural painting course has existed since 2012, in which Causey participated as undergraduate student under Nick Bustamante, her current mural painting partner and collaborator. Causey has been involved in all eight murals produced by the course.
The design process for this quarter's mural was research heavy, involving a tour for students to engage with the museum's history, reflect on the importance of honoring veterans, and understand the educational and community outreach programs the museum offers for surrounding communities and beyond.
"It was rewarding for us to show the students the museum and to see how their interest grew in wanting to give honor to those who have served," said Nell Calloway, President and CEO of the Chennault Aviation and Military Museum. "We were amazed with all of the designs that they created and it was very difficult to make the final decision,"
Studio Art major Abby Monarch created the selected design, which underwent collaborative revisions with the class and client feedback.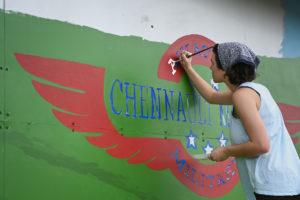 "This is a very long mural and it is taking a lot of dedication from the students to get it completed," Causey said. "It is not only large, but the class is in the afternoons and by the time the class begins it is very hot outside, and on top of that the wall we are painting on is metal which is radiating the heat and intensifies it."
The community's appreciation makes all the hard work worth it, Causey said.
"After only four full work days on the mural, the students' work has been excitedly received by numerous honks and residents bringing by water to say 'thank you.' Not all classes provide this level of community engagement, and I am thankful that this collaboration with the Chennault Aviation and Military Museum worked out and is doing just that," Causey said.
The mural is on schedule to be completed by May 20.
This story was written by Architecture student Sophie Puljak.