COES inducts more than 100 news members into the Order of the Engineer
Louisiana Tech University's College of Engineering and Science (COES) has inducted 104 students and professionals into the Order of the Engineer, an honorary organization dedicated to upholding the standards and dignity of the engineering professions, during a ceremony at the University's Integrated Engineering and Science Building (IESB) on May 6.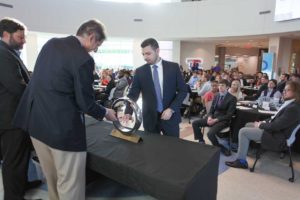 During the ceremony, initiates received Engineer's Rings, stainless steel rings placed on the fifth finger of the working hand as a visible symbol and reminder of their dedication to high ethical and professional standards. At the same ceremony, they voluntarily signed the Obligation of an Engineer and vowed to use their skills as engineers to serve the public with integrity and honesty.
"The Order of the Engineer is dedicated to fostering a sense of responsibility and community among professionals," Dr. Hisham Hegab, COES Dean, said. "I'm pleased that so many of our students pledged to uphold the high standards that Louisiana Tech sets for its engineering and science graduates throughout their careers."
"Induction into the Order of the Engineer is an important step in an engineer's career," Dr. Heath Tims, Associate Dean of Undergraduate Studies for the College of Engineering and Science, added. "That so many of these students were willing to take the oath is a testament to the high educational standards and the sense of community that Tech COES graduates carry with them after their undergraduate education ends."
The Order of the Engineer has been inducting members for more than 50 years and is open to engineering seniors. Graduates from colleges with ABET-accredited curricula registered professional engineers and exceptional engineers throughout the United States.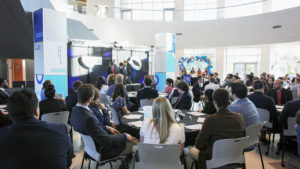 The following members were inducted during Louisiana Tech's 2022 ceremony.
Courtland Adaire (Mechanical Engineering, Madison)
Jacob Adams (Biomedical Engineering, Jeanerette)
Raven Alexander (Cyber Engineering, Greenwell Springs)
Elizabeth Amedee (Chemical Engineering, Prairieville)
Casey Anderson (Electrical Engineering, Mandeville)
Alejandro Aristizabal (Civil Engineering, Lake Charles)
Julia Bates (Chemical Engineering, Sherwood, Arkansas)
Matthew Blake (Mechanical Engineering, Mandeville)
Gavin Bordelon (Biomedical Engineering, Abita Springs)
Armando Borrego (Mechanical Engineering, Kilgore, Texas)
Max Broussard (Mechanical Engineering, Breaux Bridge)
Claire Broussard (Mechanical Engineering, Shreveport)
Brandan Brown (Industrial Engineering, Bossier City)
Caroline Canatella (Chemical Engineering, Greenwood)
Victoria Carroll (Chemical Engineering, Grand Cane)
Logan Caviness (Electrical Engineering, West Monroe)
Brett Cheramie (Mechanical Engineering, Cutoff)
Alexander Cogburn (Electrical Engineering, Monroe)
Christian Cole (Mechanical Engineering, Gibsland)
Claire Colley (Biomedical Engineering, Lake Charles)
Avery Collins (Biomedical Engineering, Bush)
Megan Cox (Cyber Engineering, Benton)
Michael Davis (Mechanical Engineering, Glenmora)
Hannah Delatte (Biomedical Engineering, Maurepas)
Carley Dugas (Biomedical Engineering, Port Allen)
Joshua Ekechukwu (Chemical Engineering, Slidell)
Braeden Ferguson (Mechanical Engineering, Ball)
Justin Fleming (Mechanical Engineering, New Orleans)
Jack Foil (Cyber Engineering, Baton Rouge)
Maritza Gaeta (Electrical Engineering, Houston, Texas)
Christopher Gardner (Mechanical Engineering, Shreveport)
Lauren Gilbert (Cyber Engineering, Wentzville, Missouri)
Evan Goldsmith (Electrical Engineering, Baton Rouge)
Justin Griffin (Chemical Engineering, Ruston)
Tess Hamilton (Biomedical Engineering, Whitehouse, Texas)
Jacob Hampton (Civil Engineering, West Monroe)
Micah Haney (Mechanical Engineering, El Dorado, Arkansas)
Lori Hawkins (Civil Engineering, Shreveport)
Katie Hay (Cyber Engineering, Haughton)
James Henry (Cyber Engineering, Ruston)
Jacob Hill (Mechanical Engineering, Longview, Texas)
Alyssa Huddleston (Electrical Engineering, Quitman)
Symone Jackson (Industrial Engineering, Zachary)
Jackson Kalahiki (Mechanical Engineering, Sherwood, Arkansas)
Margaret Kelly (Civil Engineering, Longview, Texas)
Riley Killian (Chemical Engineering, Metairie)
Timmon King (Chemical Engineering, Benton, Arkansas)
Garrett Kitchings (Electrical Engineering, Bossier City)
Jonathan Konnovitch (Industrial Engineering, Bossier City)
Allison Kumler (Biomedical Engineering, Blairsville, Georgia)
Edward Landry (Civil Engineering, Slidell)
Taylor Langley (Electrical Engineering, Physics, Bossier City)
Dann Lat (Chemical Engineering, Oak Grove)
Christian Lejeune (Mechanical Engineering, Baton Rouge)
Kade Leo (Mechanical Engineering, Houma)
Zachary Lites (Chemical Engineering, Many)
Douglas Marcotte (Mechanical Engineering, Alexandria)
Thomas Mason (Cyber Engineering, Vidalia)
Ronald Martin (Electrical Engineering, Quitman)
John McKinley (Mechanical Engineering, Shreveport)
Andrew Medvec (Biomedical Engineering, Shreveport)
Kevin Claros-Mendez (Electrical Engineering, Kenner)
Andrew Merrow (Cyber Engineering, Shreveport)
Matthew Miller (Mechanical Engineering, Hammond)
Benjamin Mosery (Electrical Engineering, Bossier City)
Alexander Neil (Chemical Engineering, Bourg)
Tyler Nettleton (Chemical Engineering, Houma)
Kaleb Nolan (Civil Engineering, Eros)
Ross Nuñez (Chemical Engineering, Mandeville)
Lauren Paul (Biomedical Engineering, Ville Platte)
Joseph Pellittieri (Civil Engineering, Pontchatoula)
Shehara Perera (Chemical Engineering, Missouri City, Texas)
Alexander Petty (Cyber Engineering, New Orleans)
Abigail Phillips (Chemical Engineering, Gilmer, Texas)
Vitalii Prisienko (Electrical Engineering, Leesville)
Christian Rabalais (Mechanical Engineering, Covington)
Kambell Rabalais (Industrial Engineering, Pollack)
Michael Reichard (Electrical Engineering, Elm Grove)
Serigo Hugo Reyes, Jr. (Electrical Engineering, Bossier City)
Justin Rigby (Electrical Engineering, Destrehan)
Reagan Rispone (Chemical Engineering, Zachary)
Cameron Rodgers (Mechanical Engineering, Vidalia)
Luke Roger (Electrical Engineering, Abbeville)
Jackson Routon (Mechanical Engineering, Harrisonburg)
Nathan Rowley (Electrical Engineering, Shreveport)
Ivan Selloriquez (Electrical Engineering, Shreveport)
Ansley Sewell (Electrical Engineering, Shreveport)
Christian Shamburg (Mechanical Engineering, Shreveport)
Tristan Sharpe (Cyber Engineering, Forney, Texas)
Joseph Siharath (Cyber Engineering, Shreveport)
Jackson Sikes (Mechanical Engineering, Bossier City)
Robert Simmons (Mechanical Engineering, Natchitoches)
Zachary Smith (Mechanical Engineering, Woodworth)
De'Asia Smith (Chemical Engineering, Saint Francisville)
Christopher Stoltz (Mechanical Engineering, New Iberia)
Erik Sullivan (Mechanical Engineering, Bossier City)
Johnathon Terry (Mechanical Engineering, Shreveport)
Nichole Thibodaux (Electrical Engineering, Zachary)
Preslee Truax (Mechanical Engineering, Gonzales)
Brandon Vessel (Cyber Engineering, Ruston)
Steven Vince (Mechanical Engineering, Greenwell Springs)
Matthew White (Mechanical Engineering, Shreveport)
Samuel Whitsell (Mechanical Engineering, Metairie)
William Jacob Wilson (Mechanical Engineering, Vidalia)