Cyber Discovery Camp provides high school students with hands-on opportunities
Recently, Louisiana Tech University hosted its annual Cyber Discovery Camp on its Ruston campus.
Teachers and rising high school sophomores from Little Elm, Mt Carmel Academy, St. Joseph Academy, West Feliciana, and West Monroe High Schools spent the week at Louisiana Tech's Cyber Discovery Camp on the University's Ruston campus.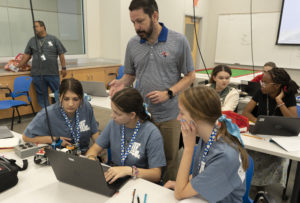 A team of faculty from Tech's College of Engineering and Science and College of Liberal Arts developed the Cyber Discovery core curriculum in 2008. The professional development camp allows teachers to learn alongside a team of students who complete projects based on fundamentals of STEM (science, technology, engineering, and mathematics) and humanities, including coding, cryptography, and ethics in cyber security. Teachers had the opportunity to observe and apply teaching methods for liberal arts, engineering, technology, mathematics, and robotics.
"We love having such strong high school students participate in this program," Dr. Heath Tims, Associate Dean of Undergraduate Studies for Louisiana Tech's College of Engineering and Science, said. "These students serve as a catalyst and help to lead within their school once they go back. We are also able to start recruiting these students early on. They are exactly the type of students that we want to attract to our programs."
The 2022 participants spent the week immersed in a guided experience, learning cyber technology skills through project-based activities, creativity, and teamwork.
"Camps like these help the students see what college is like in a nurturing environment," Zachary Lovelady, West Monroe High School "Intro to STEM" teacher, said. "They get college-level engagement while getting to a college campus and get to do hands-on work with STEM. In my class, these students learned a programming language, project budgeting, and engineering design to build water towers and Rube Goldberg machines. I selected these students so they could get experience with a more diverse range of cyber tech."
"Participation in STEM camps like this one create well-rounded, more confident students, not just in STEM, but in life," Madison Hannan, a science teacher at Mt Carmel Academy in New Orleans, added. "These camps help them build confidence in themselves."