The Band is getting back together: Look (and listen) for a new Alumni Band this fall
Metairie native Jessica Borne is passionate about Louisiana Tech's Band of Pride. She played trumpet and served as a leader of the band, both as an upperclassman while she completed her BS in Accounting (2016) and as a graduate student in 2017 while she earned her Master of Accountancy.
But for Borne, a self-professed "music kid," the beat of the band hasn't stopped.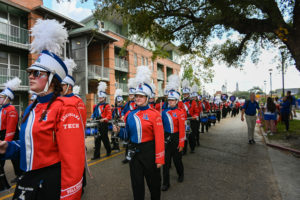 It won't, either. Because now that Tech is forming the Louisiana Tech Alumni Band, she can still be a music kid as a grownup.
Bringing back an alumni band is a natural extension of what the Band of Pride shares with other members of the Tech Family: a passion for Tech's traditions. Even post-graduation, Borne and Tech-educated musicians like her have continued to play an instrumental role in the Tech student experience by coming back to campus for Summer Orientations to help teach new Bulldogs old tricks.
Those traditions will become stronger and the Band of Pride even more instrumental in the Tech student experience now that the Tech band is adding a verse.
"The Louisiana Tech Alumni Band will allow us to bring the band back together and play for our alma mater just like old times," Borne said. "We can pick back up right where we left off with old friends while also meeting new ones. No matter if you graduated two, 10, or 20 years ago, we want you to join us in making music together."
While Tech already has previously had Alumni Bands, the new group aims to be 75 members strong at this year's Homecoming game on October 22.
Now, a dedicated effort to form a full-fledged Alumni Band organization will work to increase the opportunities to play on and off campus and serve as an reminder of Tech's continuing presence in the lives of its alumni.
The Band of Pride has a long, loyal legacy of 116 years filled with bowl games, downtown pep rallies, Time Out for Techs, Mardi Gras parades, and other academic and athletic events. They set the stage for every Game Day by playing in local restaurants the night before home football games, and of course there's the very vocal and visible Hoop Troop, which Borne was a member of while a Tech student.
"My favorite memory with the Hoop Troop was my sophomore year," she said. "We were in El Paso at a basketball tournament; as teams would lose, their fans stayed to cheer us on and made signs for the band and our basketball team. It was a great atmosphere."
Borne served under the leadership of recently retired Jim Robken, who led Tech's band for 30 years. Now Borne assists Tech's new Director of Bands, Dr. Chris Heidenreich, in working to build the new Alumni Band.
Band of Pride alumni who would like to join the Tech Alumni Band organization should contact Borne at jess.borne8794@gmail.com or Heidenreich at cph@latech.edu.
Reunion 2022
Former members of the Band of Pride have the opportunity to join the 2022 Alumni Band Reunion with Robken on Oct. 21-22.
More details are available at latech.edu/bands. Planned events for the weekend include:
8 p.m. Oct. 21 – recommended rehearsal in the Band Building
9 p.m. Oct. 21 – downtown Ruston reunion
9 a.m. Oct. 22 – rehearsal on football field
2 p.m. Oct. 22 – homecoming game kickoff
Registration for the event is $15 before Oct. 1 or $20 after. Alumni can register at latech.edu/bands. A commemorative T-shirt is also available for $15.