LA Tech Athletics rebrands fundraising unit
In coordination with University Advancement, Louisiana Tech Athletics has renamed its fundraising unit from "Development" to "Championship Resources."
The term Championship Resources is not new to Louisiana Tech Athletics. Vice President and Director of Athletics Dr. Eric Wood introduced the phrase to the Tech Family when he first arrived on campus in fall 2020 and has integrated it into the everyday fabric of the division.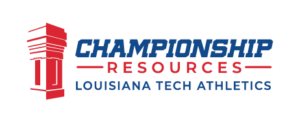 "Championships require Championship Resources. Our student-athletes are at the core of everything we do," Wood said. "At the end of the day, our job is to provide them with the resources necessary to win championships and continue to be successful in the classroom and in life."
Championship Resources will serve as the fundraising arm of LA Tech Athletics. The department will house the Louisiana Tech Athletic Club (LTAC), T-Club, Young Alumni discount, and a new major giving society to be announced soon. Championship Resources will also spearhead giving towards capital projects and sport-specific initiatives.
"We want to reimagine the way our fans, alumni, and community view fundraising for Louisiana Tech Athletics," said Colton Primm, Associate Athletics Director for Championship Resources. "Philanthropy is not a 'one size fits all' approach. Through the Championship Resources rebrand, our goal is to provide clarity for the different avenues that exist to support Louisiana Tech Athletics and make it easy for our fans to be involved philanthropically in the area of their choosing."
LTAC serves as the unrestricted annual fund for LA Tech Athletics, which provides operational support to all 16 sports. LTAC membership includes exclusive benefits such as priority seating and parking at athletic events. Fans and alumni interested in joining LTAC can visit latechsports.com/LTAC or contact Taylor Cross, Director of LTAC, at 318.295.4919.
Under Wood's leadership, Louisiana Tech has reintroduced the T-Club, the athletic alumni group of LA Tech Athletics. T-Club relaunched in fall 2021 with a goal of reuniting former student-athletes with one another and reconnecting them to their alma mater. All former LA Tech student-athletes, coaches, and managers are eligible to become a T-Club member. There is a one-time joining fee of $250. Dues are used towards the purchase of letterwinner jackets for current LA Tech student-athletes. Additionally, dues help in hosting T-Club events and providing networking opportunities.
Upon joining, T-Club members will receive personalized access to a Handshake job posting board and employee partner information, a 50 percent discount on LTAC annual membership and invitations to exclusive LA Tech events. T-Club members will also receive an exclusive T-Club hat, a T-Club lapel pin and a T-Club vehicle decal as one-time joining gifts. To join T-Club, visit latechsports.com/TClub or contact Tyler Ross at 318.497.7265.
Louisiana Tech Athletics' new Young Alumni discount offers a 50 percent discount on LTAC membership as well as 50 percent off of all season ticket purchases. All LA Tech graduates under the age of 26 automatically qualify for the Young Alumni discount by joining LTAC. For example, by making a $500 gift to LTAC, Young Alumni will receive membership and benefits at the Trophy Level ($1,000).
A first-of-its-kind major giving society is in the works for LA Tech Athletics. Through five-year pledges, this philanthropic shareholder group will be strategically focused on improving the position of LA Tech Athletics for the next round of conference realignment. More information on the society will be announced in the coming weeks.
"We want to be the most sought-after Group of Five program in the country," Wood said. "In order to accomplish this, we have to look the part. This starts with our coaches and staff and extends to our alumni and fans. It is my hope that the Championship Resources rebrand will help educate and encourage our fans on the ways they can philanthropically support Louisiana Tech Athletics."