COES doctoral student leads through service
Katya Opel began planning her college career in middle school. As a child, she knew she'd earn a doctorate – even if she wasn't quite sure what she would study. Her path would become clear to her in high school when she interned with Principal Engineering, Inc., a civil engineering firm in Mandeville.
Opel earned her second Louisiana Tech degree in May 2022 with her Master of Science in Civil Engineering and is currently researching how natural hazards like flooding affect residential buildings for her doctoral studies. Opel has been conducting this research with her advisor, Dr. Elizabeth Matthews (Assistant Professor of Civil Engineering), since she was an undergraduate, and it has allowed her to develop skills to solve problems that affect Louisiana.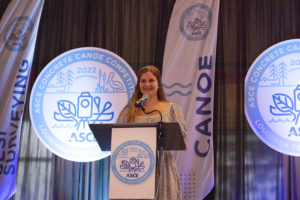 "Growing up in south Louisiana, I am no stranger to hurricanes and flooding and the devastation they wreak," Opel said. "After the 2019 tornado that hit Ruston, I knew I needed to be a part of natural hazard mitigation and restoration. Natural disasters have always been fascinating, and I have always wanted to do more in those times of need. I never expected my degree to be able to be integrated with natural disasters, but it has, and I could not be more excited for my future. I plan to enter the industry and would like to travel the world helping those in need following natural disasters and also working on mitigation efforts to prevent extreme devastation. In the future, I would like to return to academia to work as a professor, providing education on resilient construction, mitigation efforts, and disaster recovery."
When she's not studying how to build stronger, safer, and more cost-effective infrastructure, Opel is providing leadership for undergraduate students. In addition to providing leadership in her research group, she is still actively involved in the student chapter of the American Society of Civil Engineers (ASCE), where she tries to balance providing guidance to the undergraduate members and letting them discover solutions on their own.
Over the last year, she worked tirelessly planning for Louisiana Tech to host the American Society of Civil Engineers (ASCE) Concrete Canoe Competition+ for the first time. On top of scheduling competition events, she and the ASCE Planning Committee worked to ensure that facilities, housing, and meals were available for the more than 400 students and guests who attended, and the committee raised funds to offset much of the cost.
Opel got plenty of leadership experience as an undergraduate, becoming a paddler for the ASCE Concrete Canoe team her first year at Louisiana Tech and serving as president of the chapter her senior year. In her junior year, Louisiana Tech hosted the Deep South Regional Conference, which she helped coordinate. She says the most significant hurdle she had to overcome was the need to get perfect results. Her advice to students who follow in her footsteps is to look past perfection.
"The most important thing I learned as an undergraduate was that you will never know everything. As engineers, we tend to focus on perfection and need to know everything, especially for exams. Realistically, that is impossible, and you will spend your whole career and life learning new things daily. As a graduate student, I learned to put myself out there; the worst someone can say is no. Apply for the position, submit the research abstract to the conference, put in the bid to host an international conference, and talk to the new person."