Puljak appointed new Dean for College of Liberal Arts
This fall quarter, Louisiana Tech University will welcome a new Dean with a familiar name to the College of Liberal Arts (COLA).
Karl Puljak, current Director of the School of Design, has been named the College's new Dean. His tenure will begin Sept. 2.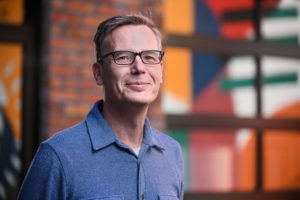 "Karl's vision of collaboration and the impact of service learning has been established throughout his tenure in the Architecture program and as Director of the School of Design," said Dr. Terry McConathy, Louisiana Tech Provost. "The Design/Build program was born under his guidance, and he has actively worked with faculty and staff in other colleges to create more opportunities for our students. His collaboration with the Division of University Advancement and donors has helped facilitate thousands of dollars in scholarships for students in the School of Design."
Louisiana Tech President Dr. Les Guice said Puljak is uniquely positioned to lead the College as University leaders embark on the state-funded renovation of George T. Madison Hall, the home of many COLA programs.
"Karl understands the power of place to help create a community," Guice said. "He also appreciates that our physical space is only one part of community building, and he will work to help bring colleagues together through shared values and opportunities in the College."
A first-generation college graduate and native of St. Louis, Missouri, Puljak earned his Bachelor of Architecture degree at Kansas State University. He later earned the Master of Architecture degree from the renowned Cranbrook Academy of Art. Puljak joined Louisiana Tech as a professional-in-residence in 1995 and has led the School of Design since 2014.
"Louisiana Tech has provided me an opportunity to learn, to develop, and to thrive as a member of this institution for half of my life," Puljak said. "I am both honored and humbled to serve as its next Dean of the College of Liberal Arts. Our collaborative community of faculty, staff, students, and alumni contribute significantly to the vitality and the culture of our campus, our state, and beyond.
"I am optimistic and enthusiastic about our College's capacity to envision and build an unparalleled educational experience for our students. I would like to thank Dr. Donald Kaczvinsky for his leadership as Dean and for his mentorship over the years. I am also grateful for the support and trust of Provost McConathy and President Guice."
Earlier this year, Louisiana Tech announced the retirement of Dr. Don Kaczvinsky. He served Louisiana Tech University and the College of Liberal Arts since 1990. Kaczvinsky served as COLA Dean since 2011.