Bossier Chamber names Tech a Military Community Champion
Louisiana Tech University has been named a Military Community Champion by the Bossier Chamber of Commerce for being "committed to the growth of our community by investing in our military, their families, and our veterans."
Launched in May, the new program highlights those organizations within Bossier City that go "above and beyond to support our military," Chamber President and CEO Lisa Johnson said.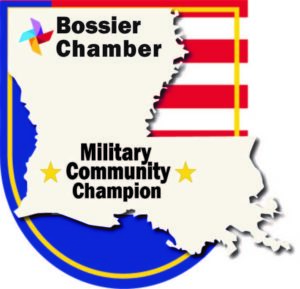 "We know that a lot of retail businesses provide military discounts, but we also know that there are many other organizations who can't necessarily provide that, but have a lot of other ways to show their support to our military," Chamber Military Relations Liaison Kattie Hollay said. "So, the program was created to showcase our community and how each of those organizations go above and beyond to champion our military."
Tech's relationship with Barksdale Air Force Base is a long and strong one. Programs at Tech Barksdale, founded more than 50 years ago, are designed to help maximize credits military students might have gotten elsewhere; today, many classes are online.
Much more recently, Louisiana Tech Research Institute at National Cyber Research Park in Bossier City has partnered with Cyber Innovation Center in supporting several defense-sector efforts.
In the Veterans Resource Center – a partnership between Tech and Bossier Parish Community College – veterans and their families can receive services and information. This collaboration increases veterans' ability to earn their undergraduate or graduate degrees close to home.
"As we continue to develop strategies to recruit, retain, and educate a diverse community of students who contribute to Tech's inclusive learning environment, the nation's veterans and active-duty military will continue to be an important part of our Tech Family," said Dr. Dickie Crawford, Tech's Vice President for Student Advancement.
Also, in March and for the ninth straight year, the University was awarded the Silver Designation in Victory Media's 2022-23 Military Friendly Schools list.