Louisiana Tech partners with other institutions through $6 million NSF award
The National Science Foundation has awarded $6 million to Louisiana Tech University and partner universities to create printable sensors that detect heavy metals and pesticides.
The research proposal to the NSF Established Program to Stimulate Competitive Research (EPSCoR) Research Infrastructure Improvement is titled, "Facilitating Ubiquitous Technology Utilizing Resilient Eco-friendly Sensors (FUTURE Sensors))," with Louisiana Tech faculty Dr. Terri Murray, Associate Professor in Biomedical Engineering as the principal investigator. 
Louisiana Tech University will serve as the lead institution for the project. Partner institutions in this research are Boise State University, Louisiana State University Shreveport, University of Alabama at Birmingham, University of Arkansas for Medical Sciences, and University of Arkansas at Pine Bluff. Participants will produce databases of eco-friendly, printable sensor inks for microelectronic devices and functionalized carbon dots for detection of toxic chemicals, and the project will advance chemical and materials engineering, sensor design, environmental research and human safety.
"We are excited to receive funding from the National Science Foundation to develop FUTURE Sensors," said Murray. "These novel devices will transform the way we detect environmental pollutants in people and in our rivers and lakes."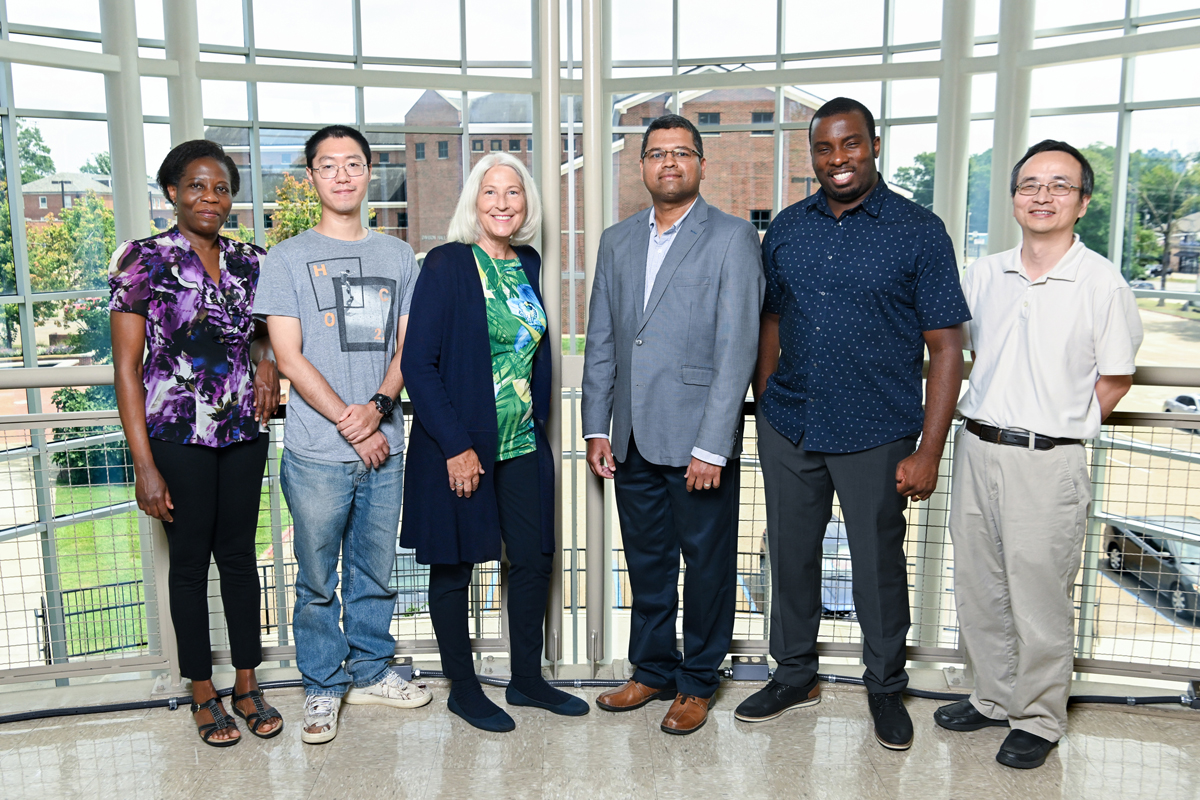 The project's research aim is to develop printable sensors to measure toxic chemicals in surface and drinking water for widespread environmental surveillance. These sensors will also measure levels of environmentally-produced toxins in human populations at risk and for individual use. Dr. Prabhu Arumugam will lead a team to design and test sensors in partnership with Drs. Harish Subbaraman of Boise State. Dr. Shuk Mei Ho of the University of Arkansas for Medical Sciences and Dr. Ross Nazari of the University of Alabama at Birmingham will use the sensors for testing in humans and polluted water. All four faculty are Co-Principal Investigators for the funded project.
The project will also encourage training and mentoring programs for students, post-doctoral scholars, and early career faculty in the program. The overall goal is to recruit, train and retain a diverse workforce.
Dr. Christobel Asiedu, Associate Professor in Sociology, will provide insights on the technology's societal impact while serving on the project's leadership team. Asiedu said the project will benefit vulnerable communities, who are disproportionately exposed to toxic chemicals as well as broaden the participation of underrepresented groups into STEM fields.
"My role will focus on making sure that the project teams are addressing diversity, equity and inclusion (DEI) goals by ensuring that we recruit women and underrepresented groups into our research, training and program activities," Asiedu said. "With other members of the team, I will conduct training sessions for team leaders to ensure that DEI goals are fully integrated into the project."
The other members of the Louisiana Tech University are Dr. Shengnian Wang, Dr. Nono Gueye, and Dr. Xiyuan Liu. The 6 researchers on the Louisiana Tech team represent five disciplines within the College of Engineering and Science, School of History and Social Science and Department of Economics & Finance.
Once the research project is complete, sensors will be commercialized through industrial partners as well as other technology transfer organizations. The global commercial markets for these sensors include environmental chemical surveillance, municipal and homeowner water supply monitoring, and community groups.
"Their future commercialization will provide multiple benefits which include the creation of high-paid STEM jobs, sensor sales revenues, and cost savings for environmental monitoring in our communities," Murray said. "This project will also support recruitment and training of a diverse workforce that will be ready to fill the jobs created by this new branch of sensor technology."
Quotables:
"Our Advanced Materials Research Laboratory (AMRL) will design sensor arrays using novel nanocomposite inks and characterize and optimize them for excellent catalytic properties towards toxic chemicals detection in different surface water types", said Dr. Prabhu Arumugam, Associate Professor of Mechanical Engineering, Institute of Micromanufacturing at Louisiana Tech University.
"This project will provide unique research experiences for LSUS students as they develop models to understand the fundamental electrical and chemical properties of the electrodes and sensor physics," said Dr. Shabnam Siddiqui, Assistant Professor of Physics at Louisiana State University Shreveport. Dr. Siddiqui will lead a team of undergraduate students developing electrochemical models for the project's sensors.
"This project represents an exciting convergence of technological advances to create a new class of sensors," said Dr. Shuk Mei-Ho, Professor in the Department of Pharmacology and Toxicology at UAMS. "We believe the innovations that result from our work can revolutionize both the water testing industry as well as testing for toxic heavy metals in humans."
"I am very excited to be partnering with Louisiana Tech University and look forward to facilitating the participation of undergraduate students from the University of Arkansas at Pine Bluff (UAPB), an 1890 Land-Grant Institution and Historically Black College and University (HBCU), within collaborative and innovative research spaces associated with the detection of toxic chemicals" said Dr. Sederick Charles Rice, Associate Professor of Biology
"We expect that these sensors will enable a future convergence with the Internet of Things, artificial intelligence, and cell phone apps to provide widespread monitoring opportunities and create connected and smart water systems", said Dr. Rouzbeh Nazari, Associate Professor and Director of the Sustainable Smart Cities Research Center (SSCRC) at the UAB.
"On-site simultaneous sensing of multiple toxic chemicals using a single sensor platform and a single detection technique in minimally prepared real-world water samples would be transformative for monitoring and enhancing environmental and public health," said UAB team member Dr. Maryam Karimi, Assistant Professor of Environmental Health Sciences.
"Boise State University will bring unique expertise and facilities in additive electronics manufacturing and nanomaterial ink synthesis and characterization in order to advance the printed sensor technology," said Harish Subbaraman, Associate Professor of Electrical and Computer Engineering at Boise State University. 
"We are excited to bring new 2-dimenional material inks to develop novel water sensors," said David Estrada, Associate Professor of Materials Science and Engineering at Boise State University. "We aim to uncover the structure-property-processing correlations of printed 2D materials based sensors, while providing rapid prototyping capabilities to expedite commercial adoption of developed technologies."