COLA, COE alum writes biography on one of Tech's best
Chris Kennedy, Louisiana Tech Class of 2018 and 2020, a graduate of the University's College of Liberal Arts and College of Education, will appear at several events across the state this fall to share his book on one of Tech's most beloved figures, the late Coach Joe Aillet.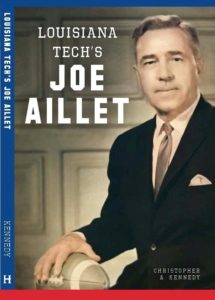 Louisiana Tech's Joe Aillet is published by The History Press, and available from most online and in-store booksellers — or at any of the following events this fall:
Thursday, Sept. 29, Claiborne Parish Library (Homer), 6 p.m.: Kennedy will offer a presentation and do a book signing.
Friday, Sept. 30, Lincoln Parish Museum, 7 p.m.: Presentation, book signing;
Saturday, Oct. 8, Louisiana Orphan Train Museum (Opelousas), 10 a.m. to 2 p.m.: Presentation and book signing;
Friday and Saturday, Oct. 21-22, Tech Homecoming: Time/place TBD;
Saturday, Oct. 29, Louisiana Book Festival, Baton Rouge, Kennedy is a featured author.
Tech's football stadium is named after Aillet, the Tech Athletics and Louisiana Sports Hall of Famer, and it's the site where Kennedy as a little boy ran around and watched games and rolled down the hills that used to be in the south end zone.
"I can never remember not knowing the name 'Joe Aillet,'" Kennedy, 25, said. "But I didn't really know anything about him."
He does now. The son of Tech dean Dr. Gary Kennedy, a boy who grew up in the shadow of the stadium, a library guy who loves words and reading, Kennedy months ago began chasing what he calls the "legendary mystique" and wrote about it in a book that's a sort of love letter, both to Kennedy's hometown and to one of its legends.
Currently studying for a second graduate degree and working at the Louisiana State Archives in Baton Rouge, Kennedy used his personal history, plus information from nearly 1,000 articles and 50 interviews to illustrate the full picture of what he calls "an uncommon coach and reserved scholar" whose "off-field biography rivals his sideline career."
"He was — is — the most brilliant man in my lifetime in the sports world," said Nico Van Thyn, former executive sports editor of the Shreveport Journal and a student worker in the University's sports information office at the end of Aillet's career. "He was … a teacher who chose athletics as his field, but he would have been super in any endeavor. Those of us who were at Tech during his three decades of leadership were so blessed. He was 'The Smooth Man.'"