Dr. Tamar Goulet to lead conversations on women in STEM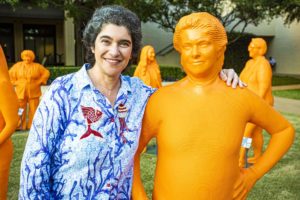 Dr. Tamar Goulet, a biology professor at the University of Mississippi, will give a seminar on her research designed to increase understanding coral reefs amidst climate change issues on Oct. 10 at Louisiana Tech University. She will also lead a series of conversations focusing on engagement, recruitment, and retention of women in STEM on college campuses.
Goulet is a strong advocate for women in STEM, having been selected as one of 120 ambassadors for the American Association of the Advancement of Science (AAAS) IF/THEN Initiative. In response to the limited number of statues of women, the IF/THEN Initiative created a wax statue of each of these ambassadors and displayed them outside of the Smithsonian during the month of March. These statues are now traveling across the country to highlight the significant achievements of women in STEM.
IF/THEN is a program where AAAS works to advance women in science, technology, engineering and math (STEM) by empowering innovators and inspiring the next generation of pioneers. 
There will be a screening of "Picture a Scientist", a film showcasing the growth of researchers writing a new chapter for female scientists at 5 p.m. Oct. 10 in the IESB with pizza and popcorn for all who attend. After the showing, Goulet and Louisiana Tech faculty members will engage in a question-and-answer panel.
These activities will engage administrators, faculty, and students giving opportunities to discuss research, undergraduate education, and the importance of women in STEM.
"The goal for this event is to engage the university in a conversation not just about women in STEM but about representation in all disciplines," said Dr. Jamie Newman, Associate Dean for Research and Graduate Studies in the College of Applied and Natural Sciences. "Its purpose is to encourage, support, and empower students to pursue their goals no matter their identity."
The event and Goulet's seminar are supported by a grant to Newman from the Alan Alda Center for Communication Science after she participated in the Women in STEM Leadership Program.
"If we support a woman in STEM, then she can soar to new heights of creativity, confidence, and accomplishments," Goulet said. "When a woman achieves her potential, her contributions and charisma carry other people forward."
The registration link for the screening can be found here.