Louisiana Tech, WRLDINVSN partner with Bullyball for new clothing line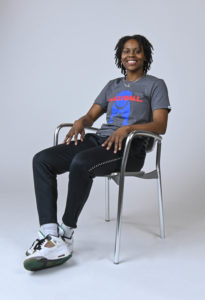 Louisiana Tech University and WRLDINVSN have partnered with Memphis Grizzlies power forward Kenneth Lofton Jr.'s Bullyball brand to create a new line of T-shirts and hoodies in the aggressive spirit of the former Dunkin' Dog's play.
Fans had the chance to sign up for a mailing list to be among the first to purchase the line, and now it's available to the masses at wrldinvsn.com/collections/kenneth-lofton-jr-bullyball.
"This new Bullyball collection embodies all that Junior brought to the court when he played at Louisiana Tech, and now what he brings to his play with the Grizzlies," said Tonya Oaks Smith, Executive Director of University Communications and Marketing at Tech. "We're all watching his success on the court, and we're so grateful he chose to work with us on this new line."
New Orleans natives Nicholas Clark ('18) and Marlon Watts ('18), founders of WRLDINVSN, were named Louisiana Tech's Young Alumni of the Year in 2019. Both young men are first-generation college graduates. Clark earned his BA in Graphic Design, and Watts earned his BS in Business.
In early 2022, Ruston-based WRLDINVSN became licensed to design and produce Louisiana Tech gear. Since then, the company has introduced designs that appeal to both young Tech fans and seasoned Bulldogs. The duo has also established an endowment for student scholarships in the College of Business.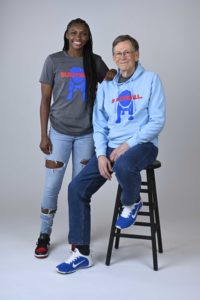 "This collection shows that members of the Tech Family can go out and achieve greatness on their own, and we can partner to create something great together," Watts said. "We're showing the power of collaboration over competition – coming together always achieves more."
Headquartered in Ruston, WRLDINVSN provides original designs and branded fashion apparel to urban youth who feel stagnant and trapped by what their environment tells them what they can and can't do.
Kenneth Lofton Jr. was an unstoppable force during his two years with the Bulldogs.  The 6-foot-7, 275-pound forward averaged 14.3 points and 9.0 rebounds per game for his career, collecting 26 double-doubles along the way.  He burst onto the scene in 2020-21, earning Conference USA Freshman of the Year honors after leading LA Tech to the C-USA West Division title and a third place finish in the National Invitation Tournament, scoring the game-winning basket to win the consolation finals.  He took his game to another level as a sophomore in 2021-22, earning First Team All-Conference USA, First Team NABC All-District, and LABC Major College Player of the Year accolades after helping guide the 'Dogs to the C-USA Tournament title game.