Louisiana Tech ranked second in state on USNWR Best Global Universities list

Louisiana Tech University was ranked the No. 2 public university in the state of Louisiana among the top 2,000 universities in the world on the U.S. News and World Report's Best Global Universities list. The list was released today.
The rankings methodology focuses on institutions' academic research and reputation overall without specific focus on individual academic programs. The overall Best Global Universities ranking encompasses 2,000 top institutions spread across 95 countries.
"Collaboration, within our University and with institutions throughout the world, is a hallmark of Louisiana Tech's culture and our research culture specifically," said Dr. Les Guice, Tech President. "The Best Global Universities list shows that our reputation and publications are highly respected throughout the world. Louisiana Tech's research and partnership focus will continue to be on work that makes a difference – and provides unparalleled educational opportunity – for our region, state, nation, and the world."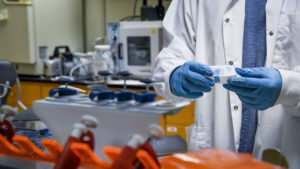 These rankings, according to USNWR, can help applicants interested in pursuing undergraduate and graduate degrees outside their home countries "more accurately compare institutions around the world."
The University's Physics program was also recognized for its global research and reputation impact, one of only two programs in the state so honored. The program, which recently introduced a concentration in Medical Physics, celebrated the 10th anniversary of the discovery of the Higgs boson particle. Louisiana Tech faculty, post-doctoral researchers, and students were among the international cadre of physicists who proved the existence of the Higgs boson, sometimes called the "God particle," nearly 10 years ago.
"Partnerships with research institutions around the world, such as CERN [European Organization for Nuclear Research] in Switzerland, have helped create research opportunities for our faculty and students at all levels," said Dr. Sumeet Dua, Tech's Executive Associate Vice President for Research and Partnerships. "As we continue to prioritize research opportunities for our undergraduate and graduate students, our international connections will provide the chance for our students and faculty to make an impact with their research aspirations."
Rankings indicators included global research reputation, regional research reputation, publications, books, conferences, normalized citation impact, total citations, number of publications that are among the 10% most cited, percentage of total publications that are among the 10% most cited, international collaboration relative to country, international collaboration, number of highly cited papers that are among the top 1% most cited in their respective field, and percentage of total publications that are among the top 1% most highly cited papers. The methodology is available online.