Construction Engineering Technology Surveying option provides student with internship opportunity
When Construction Engineering Technology senior and Oak Grove native John Kyler Hill learned that the program was offering a Surveying option, he knew he'd found the perfect course sequence to prepare him for the career he wanted.
Hill, who came to Louisiana Tech University with four years of pipeline construction experience, wanted a degree to train him for a good-paying career that he could do outdoors. The Construction Engineering Technology program also having approachable professors who showed an interest in his success – well, that was just lagniappe.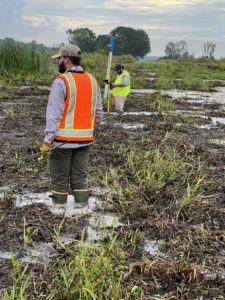 Next fall, Hill will be one of the first graduates to earn a degree in Construction Engineering Technology with the Surveying option, which prepares students for surveying licensure in Louisiana, increasing pay, and employment opportunities.
"A lot of people don't realize that the job outlook for surveyors is growing," Hill said. "Right now, more surveyors are retiring than are joining the workforce, and there's a growing demand for well-trained surveying professionals. On top of that, the surveying specialization offers multiple career paths. You can work on heavy civil projects, like roads and bridges, as a local surveyor measuring properties, or as a hydrographic surveyor flying drones over coastal areas or large bodies of water. There's the potential for travel, maybe even contracting out to different countries. You could even work behind a computer after you get your surveying license."
After taking three classes toward the Surveying option during his junior year, Hill earned an internship with HGA. He said that while the courses' hands-on experience with surveying equipment and the technical knowledge to understand the equipment, the accessibility of Construction Engineering Technology faculty contributed most to his success in the position.
"I'd like to thank Dr. [Jeff] Pike [Senior Lecturer of Civil Engineering and Construction Engineering Technology], Mr. [Reginald] Jeter [Program Chair and Professional in Residence of Construction Engineering Technology], Mr. [J. Walter] Ballard [Adjunct Instructor of Civil Engineering and Construction Engineering Technology], and Dr. [Jason] Howell [Lecturer of Civil Engineering and Industrial Engineering]," Hill said. "All of them are very approachable and more than willing to help students find internships and give us advice about jobs and equipment. Their interest in my education helped me get the internship with [Hunt, Guillot & Associates] HGA and find the right educational path for me."
Ballard, a Survey Manager who supervised Hill's internship at HGA, says that he was impressed with Hill's performance on the job.
"Kyler gained valuable experience in assisting field personnel on a preliminary alignment survey to replace two large diameter pipelines from locations that conflict with the planned route of the Comite River Diversion Canal in East Baton Rouge Parish," Ballard said. "He persevered through long days and challenging conditions to quickly earn the respect of the other field crew members. He was eager to learn and brought energy and a sense of determination to work each day."
Learn more about the Construction Engineering Technology program online.