Engineering student developing research to save Louisiana coastline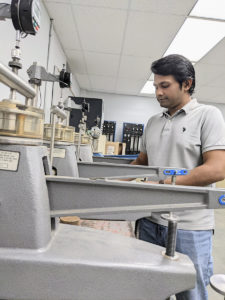 Dual doctoral and master's Engineering student Omar Shahrear Apu came to Louisiana Tech University for one reason: to study solutions to coastal erosion with Dr. Jay Wang, Program Chair of Civil Engineering, Professor of Civil Engineering and Construction Engineering Technology.
As a young engineer in Bangledesh, Apu felt a sense of urgency to develop tools and methods to restore coastal areas. When he discovered that Wang, an expert in geotechnical engineering, was researching the field, he knew Louisiana Tech was the place for him.
"I grew up in the coastal part of Bangladesh with erosion problems similar to Louisiana," he said. "As an undergraduate student, I became aware of these problems and determined to contribute to natural disaster mitigation. As a civil engineering professional, I wanted to get experience in geotechnical engineering. The Louisiana Tech program allowed me to develop solutions that can be applied in many places."
As a research assistant in Wang's Geotechnical Engineering Laboratory, Apu has spent the last three years working on projects to help the Louisiana Coastal Protection and Restoration Authority (CPRA) shore up the state's coastline. He's published four papers, attended two American Society of Civil Engineers Geo-Congress conferences, and completed 240 internship hours at the CPRA headquarters, where he helped develop a standard test method for dredged soil settlement analysis using 3D-printer technology.
This November, Apu, who also served as a treasurer for the College of Engineering and Science Graduate Student Council, will complete his master's degree. His thesis, "Development of A Standardized Geotechnical Laboratory Testing Procedure for the Low-Stress Consolidation Test for the Marsh Fill," outlines his role in the CPRA's project to create artificial marsh islands to restore land mass along the Louisiana coast.
Researchers routinely monitor soil settlement to predict the stability of artificial islands at the coastline. Yet, no one has established an Engineering Standard and Testing procedure to measure dredged soils' settlement/consolidation properties. That's where Apu's work comes in. He has developed a standard, repeatable testing procedure to measure the stability of soils.
Apu says he is thankful for Wang's guidance as he will continue to work on perfecting his research as he continues his doctoral studies over the next year.
"Dr. Wang is a pioneer in geotechnical research, and Louisiana Tech is a leading research university with numerous facilities to produce world-class professionals. I am grateful to work through my studies and research at the University. I look forward to continuing research with him over the next year as I modify the existing theory to correctly estimate the consolidation properties and use more advanced technology to perform the consolidation tests more effectively and efficiently."