Industrial Engineering program celebrates 50 years of accreditation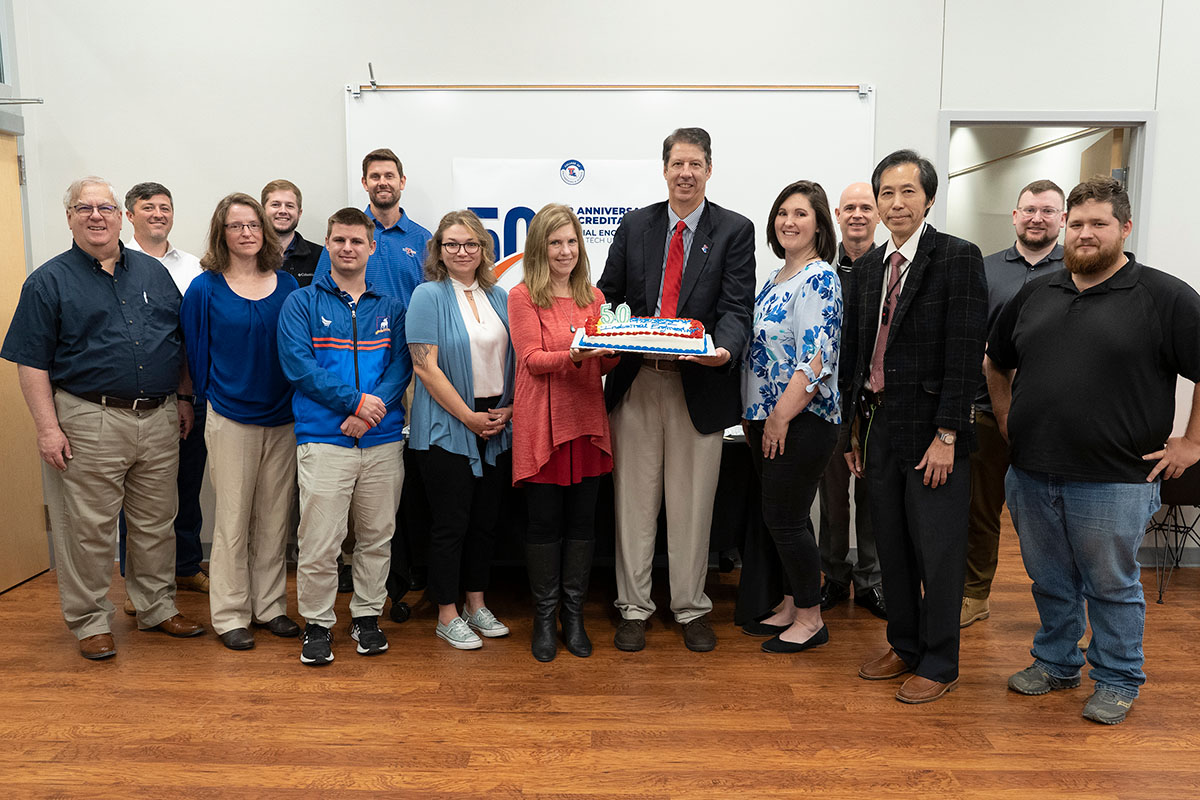 Louisiana Tech University's Industrial Engineering program recently celebrated 50 years of accreditation with students, board members, faculty, staff, and – of course – cake.
The program, which prepares graduates to help industries and businesses and apply cost-saving principles to streamline processes and boost productivity, has maintained ABET (Accreditation Board for Engineering and Technology) accreditation since 1972.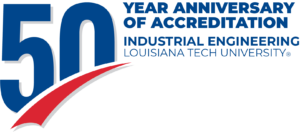 Seniors Hayden Scaff and Wesley Brady, who attended the celebration, say that the Industrial Engineering program has prepared them for careers by giving them a wide range of skills that they can use to help their employers implement cost-saving, production-boosting methods.
Both Brady and Scaff spent the summer between their junior and senior years applying principles they learned in the classroom to real-world experiences in internships. Scaff says that his junior internship with Big Daddy's Moving Company showed him how well the Industrial Engineering program was preparing him for a career.
"The broad scope of classes helped me understand what I needed to do and how to approach the tasks I was assigned," he said. "As Industrial Engineering majors at Louisiana Tech, we do time studies, operations research – we learn to communicate with people."
"You're more than a face in the crowd here," Brady added. "Every professor wants us to succeed. They don't go out of their way to make things easier, but they do go out of their way to give us the tools we need to succeed. These courses give us tools to help us work out solutions using the guidelines our professors give us. We learn how to do our own projects, from start to finish, testing our methods' effectiveness or ineffectiveness using the tools we learn about. "
Both Brady and Scaff intend to take the opportunity to earn the Six Sigma Black Belt with their degrees, which will qualify them for more jobs. Students can also earn the Six Sigma Green Belt, Lean, and Lean Six Sigma certifications.
Taylor Burch, a 2012 graduate and Schlumberger (SLB) recruiter, says that the Industrial Engineering program's excellence shows in the level of preparedness that Louisiana Tech graduates have once they start a job.
"I have been recruiting at Louisiana Tech for the past eight years; the recruits that I have helped bring into SLB during that time have always been up for the challenge and performed well. What has impressed me the most is the level of technical acumen combined with good communication skills- to me, this is the key recipe for a good engineering leader in our organization."
"The Industrial Engineering program faculty work hard to ensure that our students are learning the latest techniques and most applicable skills for the industrial engineering workforce," Dr. Hisham Hegab, dean of the College of Engineering and Science, added. "Their successes after graduation highlight the faculty's dedication to creating robust and effective curriculum and providing students with relevant, project-based classroom experiences."