Tech alum Ka'Davien Baylor lights up Downtown Ruston
Ka'Davien Baylor knew he was an artist-to-be when he was drawing murals on his parents' furniture and explaining to them what each one meant.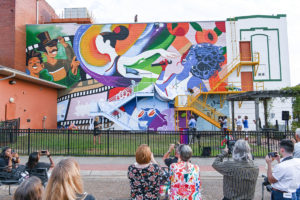 He was 3.
"My mom still tells me these stories," Baylor, a Graphic Design major in Louisiana Tech's Class of 2016, said. "I drew cartoon characters, things off cereal boxes, sold pictures to my friends in elementary school; had to make that candy money."
Recently he created eye candy in downtown Ruston that will bring color and light to the community for years.
In conjunction with the City of Ruston and Valspar, a manufacturing corporation of paints and coatings, Baylor was the artist who created the new mural that covers the north side of the Dixie Center for the Arts, part of Valspar's "Be Bright" community initiative.
The location was selected by Shreveport native, Choudrant resident, and PGA Tour Pro Sam Burns, the 2022 Valspar Championship winner.
Also a Shreveport native and resident, Baylor "had about a week to sit with it" and come up with an idea after speaking to Ruston and Valspar reps about the vision for the project and what "Be Bright" meant to him and to the Ruston community.
"I sort of let things come to me and then got to work," he said.
In two weeks, with the help of lifts and ladders and Valspar exterior flat paint, Baylor completed the bright, giant celebration of the arts created with colors to evoke optimism and joy.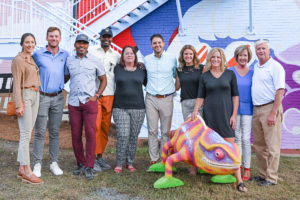 Valspar began the "Be Bright" program during the pandemic in 2020 to "inject hope and brightness into selected communities," the company said.
The Ruston artwork on the Dixie is the latest of more than 40 murals Baylor has created.
A graduate of Southwood High in Shreveport, Baylor, 30, is currently creating a mural atop the Hilton Shreveport Convention Center Hotel and will then team with four other local artists for a "From Shreveport with Love" mural at the corner of Crockett and Edwards streets in Downtown Shreveport.