LASM plans special tour of VISTA work
The Louisiana Art and Science Museum (LASM) will host Art After Hours: Illustrating Health from 6-8 p.m. Friday, Dec. 9, in the Second Floor Main Gallery. The evening will consist of a tour of the exhibition, and appetizers and refreshments will be provided.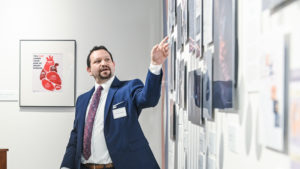 The exhibition explores the visual representations of diseases, everyday occurrences, and lifesaving research that affects individuals' health. The art on display was created by Louisiana Tech University students in the VISTA Center.
Louisiana Tech VISTA Center Co-Directors Professor Nick Bustamante and Dr. Jamie Newman will lead the exhibition tour.
"The Louisiana Tech VISTA Center's program was a perfect match for LASM's interdisciplinary mission and I'm very excited for visitors to hear Dr. Newman and Professor Bustamante speak on this exhibition," LASM Curator Tracey Barhorst said. "VISTA students are encouraged to combine their love of art and science to encourage discovery, inspire creativity, and foster the pursuit of knowledge."
"Working with the LASM team of professionals has been fantastic in making Illustrating Health a first-class museum exhibition," Bustamante said. "Louisiana Tech's VISTA Center is thankful for the opportunity to showcase undergraduate scientific illustrations and underline visuals' role in health communication."
LASM's annual exhibition program, including the presentation of Illustrating Health, is sponsored by Entergy. Illustrating Health is also supported by Louisiana Tech University, Justin and Jeanette Hinckley, Kean Miller, and the Baton Rouge Clinic.
Tickets for this event are $15 for the public and free for LASM Members. Visit lasm.org for more information.