Turner reminds graduates of lasting Louisiana Tech lessons
Longtime community service enthusiast and Louisiana Tech University alumna Rosemary "Toni" Wurster Chandler Turner of Dallas shared in her address to Fall 2022 graduates the ways in which her Tech education taught valuable life-long lessons.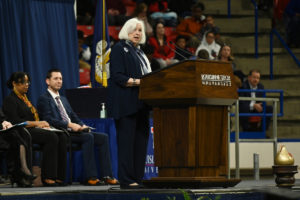 "I used what I learned at Tech to overcome the unexpected, to deal with demons, and to adapt," Turner said. "I have little idea of what the world will be like when you reach my age, other than to believe that the adaptable will thrive. Tech has given you the tools to recover from adversity; use them."
In the University's 342nd commencement ceremony, 336 graduates entered the Tech Alumni Family. Nine graduates received their doctoral degrees, and three 4.0 GPA graduates were recognized during the event.
In her time at Louisiana Tech, Turner said she learned the important lessons of recovering from disappointment, finding inspiration and mentoring, becoming stronger. These lessons built on her childhood and prepared her for her future.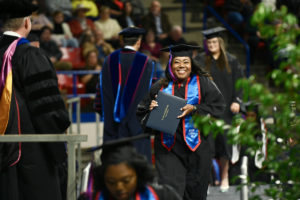 "Achieving high grades in high school paled in comparison to the experience of near-failure in math and the confidence that I gained in the ability to recover," Turner said. "Seek guidance from those who care about you; use failure to teach yourself to recover. Never give up."
Turner also advised graduates to find their own sources of inspiration in their lives and shared that her time in a sorority taught her how to work with others and how to thrive through competition.
"I learned at Tech to be resilient, to become stronger," Turner said. "This enabled me to use the experience of flying with Uncle Dick [one of the famous Flying Tiger fighter pilots] to pursue a career change."
Turner's family boasts 19 graduates of Louisiana Tech.
A native of Jonesville, Turner earned her Bachelor of Science in Medical Technology from Tech in 1964. She began her professional career as a medical technologist, but an early change in careers led her to 34 years with Delta Airlines as a flight attendant, serving on both domestic and international routes.
While a Tech student, Turner was active in Sigma Kappa Sorority and the Wesley Foundation. She competed in the Miss Louisiana Pageant representing Catahoula Parish, and she danced in the Royal Ballet of the Natchez Pilgrimage.
Turner has been active during her post-college life as both a professional and volunteer, and her support of her alma mater has been unwavering. She and her husband, Dr. William Turner Jr., have established two endowed scholarships of $100,000 each in the past four years.