Primm promoted to Senior Associate Athletics Director
Colton Primm, Associate Athletics Director for Championship Resources, has been named Senior Associate AD for Championship Resources for Louisiana Tech Athletics. He will assume his role Dec. 1.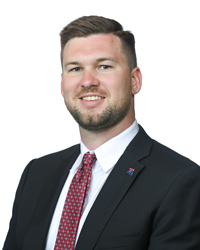 Vice President for University Advancement Brooks Hull said Primm has been a leader in the Division's commitment to engagement and philanthropy initiatives for LA Tech Athletics since his appointment just over a year ago.
"Colton's achievements over the past year have propelled fundraising and engagement for Athletics to the next level," Hull said. "He has been responsible for a fundraising team that raised the bar for Louisiana Tech, with an 8 percent increase in funds raised over fiscal year 2021 and a 14 percent increase over fiscal year 2020."
Primm joined Louisiana Tech after serving with the Razorback Foundation at the University of Arkansas. He earned his bachelor's degree in economics and business from Hendrix College and his MBA from Ohio University. He also earned a master's degree in Sports Administration from Ohio and was a four-year letter winner and two-year captain in basketball at Hendrix.
Engagement with former student-athletes, donors, and friends of the University has been a hallmark of Primm's tenure with Louisiana Tech. He led efforts to launch the Aillet Society, which serves as a major giving society for LA Tech Athletics. To date, the Society has 43 charter shareholders. Primm also worked to relaunch the T-Club, a special alumni group for former LA Tech student-athletes.
"Colton has put together a team that is committed to securing the championship level resources necessary for our student-athletes and coaches to compete for excellence in the classroom and on their respective playing fields," said Dr. Eric Wood, Vice President and Athletics Director. "He's had an immediate impact on our division and is well deserving of this promotion."
Primm and his wife, Sam, have a 2-year old son, Paxton.