School of Communication celebrates scholarship winners
Louisiana Tech Communication major Anna Graney of Colcord, Oklahoma, was recently chosen as the winner of the Kerry Garland Memorial Scholarship, one of two scholarships awarded this year by the Shreveport Journalism Foundation.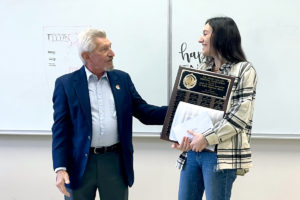 Tech graduate student and local freelance writer Alexis Newman earned the Orland Dodson Memorial Scholarship, the SJF's other award, last year when she was a Tech senior in Communication.
"Tech students continue to excel at winning these scholarships," Dr. Judith Roberts, Assistant Professor in Communication and Media Studies, said. "I encourage students every year to apply for these, because I don't think we've ever had a year when students applied and we didn't win at least one."
A separate plaque with the names of the scholarships' recipients from Tech are displayed on the second floor of Robinson Hall.
The Garland Memorial Scholarship was established in memory of The Times of Shreveport print journalist and International Paper Company public relations practitioner Kerry Garland and was first awarded in 1987. A second scholarship was added in 1991 in memory of local radio, television and print journalist Orland Dodson.
Each scholarship began as $500 but after two years was increased to $1,000. Then in 2021, it was increased again to $1,500.
The scholarships are given annually to college juniors or seniors who are majoring in either journalism or public relations and either have a permanent residence or attend school within a 100-mile radius of downtown Shreveport.
John Lee, now retired from a long and distinguished career in Shreveport-Bossier news, is the vice president of the SJF. He recently presented the Garland scholarship to Graney.