TKE pledge class 'plays it forward' for A.E. Phillips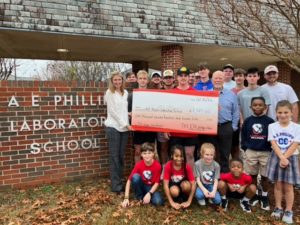 As a part of their 2022 pledge class project, the brothers of Tau Kappa Epsilon (TKE) have donated to the "Play it Forward" campaign for A.E. Phillips Laboratory School's (AEP) new outdoor learning space.
Every year, the TKE pledge class is encouraged to complete a project that involves a type of philanthropic or fundraising event.
TKE pledge member Jacob Michelli led this year's initiative.
"I was driving past A.E. Phillips when I saw the 'Play it Forward' initiative, and our pledge class project immediately came to mind," Michelli said. "When I brought it up, they were immediately on board."
Michelli said he joined TKE because of the organization's focus on philanthropy.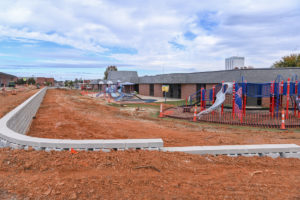 "The pledge class kind of nudged me to be the leader, simply because I knew the most about the project. It also helps that I love philanthropy," Michelli said.
AEP Director Dr. Jenny Blalock said she is thankful for the donation from TKE.
"I love when A.E. Phillips is able to connect with organizations on campus, Blalock said. "This is one unique aspect of our school that enriches the experience for teachers and students. Greek life was special to me when I was a student at Tech, and for our school to be a recipient of TKE's philanthropy is heart-warming."
This story written by Communication student Leslee Bennett.