Engineering and Technology Management program among the best online master's programs in US
Louisiana Tech University's graduate Engineering and Technology Management (ETM) program was ranked the No. 11 "Best Online Master's in Engineering Management Programs of 2023" in the United States by Intelligent.com, a resource that provides distance learners with program rankings and helps them plan to pursue degree options.
The program earned an Intelligent Score of 96.67 for its low cost per credit hour, flexible admission, high retention and graduation rates, course strength, student-to-faculty ratio, program reputation, and resources available to online students.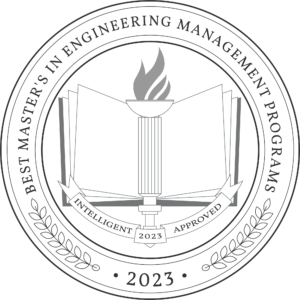 Engineering and Technology Management students choose between four concentrations: Engineering Management, Management of Technology, Construction, and Data Science. Each of these concentrations provides students with skills in mathematical, statistical, and risk analysis modeling as well as systems design, engineering management, project management, and financial analysis. These skills prepare the graduates to become effective technical leaders for their employers.
Interwoven into the program curriculum is the ability to earn Lean, Six Sigma Green Belt, Six Sigma Black Belt, and Data Science certificates without taking any extra courses. All of these certifications improve the students' marketability for obtaining competitive positions and salaries with successful organizations and companies.
The program is led by Senior Lecturer of Industrial Engineering and Engineering Technology and Management and Master's Coordinator of Engineering and Technology Management Dr. Beth Hegab who helped develop the program into what it is today, garnering a large number of alumni who have gone on to have successful careers in engineering management, including in positions such as technical manager, product manager, project manager, quality engineer, continuous improvement engineer, and engineering manager.
"Louisiana Tech University's Master of Science Engineering and Technology Management program can be described in three words: challenging, valuable, and versatile," '21 program graduate and professional contractor Lindsay Gouedy said. "The versatility the University and program offers are tailor-made for the active professional. As a busy contractor with a family of five, I was concerned how a master's program could fit in our schedule and how it would benefit my family in the long-run. I completed the ETM degree program in less than two years with six-sigma black belt and green belt certifications, as well as a Graduate Certificate of Business Administration. The kinships established between other students in the program built lifelong friendships and connections all across the country. The program opened research opportunities for me in an area of technology I had never considered and has led me into the direction of obtaining my doctoral degree in engineering."
"The ETM program has not only challenged me academically, but has equipped me with functional tools that have led to career growth even before I graduated," current student Christopher Oehl said. "It has given me a new way of approaching problems using math and analytical skills that I previously did not have, and has married my operational experience to an engineering mindset that is both unique and highly practical in the professional world."