Special Collections and Archives acquires Bernard J. Stinnett Collection
The Special Collections and Archives at Louisiana Tech University has acquired a collection of letters, memorabilia, artwork, and photographs of former Camp Ruston U.S. Army clerk Bernard J. Stinnett, courtesy of his daughter Hester Stinnett.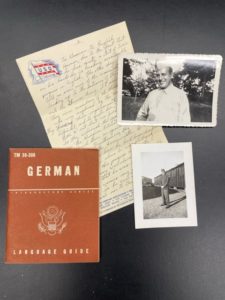 Louisiana's Camp Ruston was one of the largest prisoner-of-war (POW) camps established by the U.S. during World War II, located on the western outskirts of the town of Grambling.
The camp was initially designated as an "Enemy Alien Interment Camp" to house Japanese Americans and later became a training ground for the Fifth Women's Army Corps. In June 1943 the camp became a POW camp for captured German Afrika Korps soldiers and prisoners of other nationalities. The camp closed in 1946.
PFC Bernard J. Stinnett, an educator from Baltimore, arrived at Camp Ruston in 1944 where he served as Clerk of the German Officers Compound until October 1945. Discharged from the Army in 1946, he returned to Baltimore to resume his teaching career and finish his graduate work at Johns Hopkins University. After receiving his master's degree in education, he became principal of Samuel Gompers Vocational School and later of Woodrow Wilson Vocational School in Baltimore until his retirement.
Throughout his time in the Army, Stinnett wrote to his friend and colleague, G. Kenneth Horvath about his experiences. Special Collections and Archives has received these letters in addition to the other correspondence from former prisoners, photographs, and War Department publications.
The letters contain descriptions of daily activities and interactions of both Army personnel and prisoners including observations on Ruston, the surrounding area, and the Army in general, as well as how his views on his service at the Camp changed when he met a young Ruston woman who later became his wife.
Stinnett's letters touch on the German prisoners' interactions with the Austrian prisoners and their fears of the treatment they might receive back home and reveal the Russian prisoners' fears of returning to Stalinist Russia.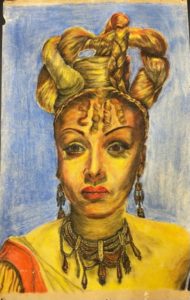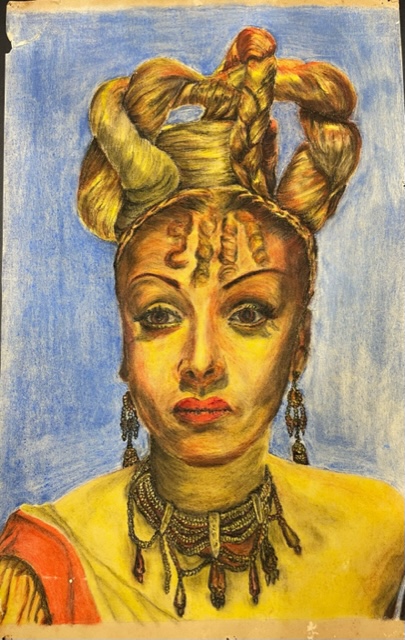 During his time at Camp Ruston, Stinnett cultivated a relationship with Feoktist Kalinin, a young Russian second lieutenant. Kalinin was an artist for whom Stinnett procured drawing materials and from whom he commissioned a drawing of his fiancée, which is in the collection.
"We are honored to receive this wonderful collection from the Stinnett family, particularly because of its focus on Camp Ruston," said Angela Dunnington, Executive Director of Library Services.
"This collection is exciting material for any WWII-era military researcher as it gives new insight into understanding the lives of camp personnel, its prisoners, and most interestingly, the Russian prisoners who were either conscripted into the German Army or joined of their own accord to escape Stalin's regime," said Tanya Arant, of the Special Collections and Archives.
The Bernard J. Stinnett Collection is currently on display and will be digitized and uploaded to Louisiana Tech University's Digital Commons institutional repository and the Louisiana Digital Library by February 2023.
For more information about the collection, contact Arant at 318.257.4098 or tarant@latech.edu.