AEP endowment honors long-time CEO Akins
To honor former CEO and President Nicholas "Nick" Akins, American Electric Power (AEP) has established the Nicholas K. Akins Eminent Scholar Chair in Engineering within Louisiana Tech University's College of Engineering and Science.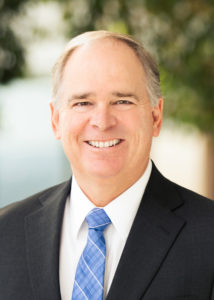 "Nick's leadership in AEP has been highly impactful, and he has established a legacy of innovation in safety, reliability and sustainability for the industry," said Dr. Les Guice, Louisiana Tech President. "AEP's commitment will honor Nick by helping our University attract and retain an outstanding senior faculty member who will enhance our tradition of providing unparalleled opportunities in engineering education and serve as a leader for Louisiana Tech's priority research programs, including energy and cyber security."
In addition to endowment funding, the Louisiana Tech University Foundation will seek matching funds from the Louisiana Board of Regents Support Fund, a constitutional dedication to promote excellence in higher education and enhance economic development through specified purposes including the endowment of chairs for eminent scholars.
"This endowment is a wonderful tribute to Nick, his advocacy of STEM education, and his deep appreciation for the opportunities provided by his alma mater," said Julie Sloat, AEP president and chief executive officer. "AEP is proud to support Louisiana Tech as it shapes the next generation of engineers who will follow in Nick's footsteps and lead the transformation of our industry."
Akins is a 1982 and 1986 graduate of Louisiana Tech with bachelor's and master's degrees in Electrical Engineering. He was honored with the Tower Medallion and induction into Tech's Hall of Distinguished Alumni in May 2022. The Tower Medallion is awarded to Tech alumni who have distinguished themselves by exceptional achievement, community service, and humanitarian activities.
"This honor is uniquely fitting for Mr. Akins and his continuing commitment to Louisiana Tech's legacy," said Lisa Bradley, interim Vice President for University Advancement. "The Nicholas K. Akins Eminent Scholar Chair in Engineering will help our University support one of the best and brightest researchers in critical areas for our state, region, and nation."
Akins stepped down from his role as president of the company in August, and his term as CEO ended Dec. 31. He will continue to serve as executive chair for the company's Board of Directors. Under his leadership, AEP invested in modernization and security of the electric grid, resource diversification, and technology and innovation to enable the transition to a clean energy future while preserving universal access to the grid. Through strategic partnerships and collaboration with customers, Akins positioned AEP to redefine the future of energy and embrace the transformation sweeping the industry.