Sawyer spreads Mardi Gras cheer as King Janus XL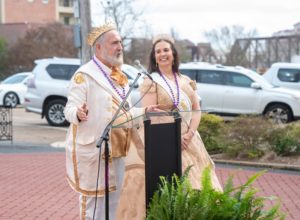 Being king isn't all Mardi Gras balls and parades, and that's fine with Louisiana Tech University Physics Professor and Director of Chemistry and Physics Dr. H. Lee Sawyer, or as he's known among his krewe – King Janus XL.
Sawyer, who has spent more than 20 years teaching Louisiana Tech students to love physics and helped discover the Higgs boson, says that while he enjoys the parties and parade planning, performing his duties as royal educator are his favorite activities.
As king and queen, Sawyer and his wife Suzette travel to schools in Northeast Lousiana, including A.E. Phillips at Louisiana Tech, talking about the history of the Krewe and Mardi Gras in Louisiana, giving students advice on staying safe during upcoming parades, and passing out holiday bling. They also visit assisted-living facilities and host scout troops and other visitors at the krewe den in Monroe.
"The best thing about being king is probably the school visits. Dressing up in the costume complete with crown, talking Mardi Gras history and safety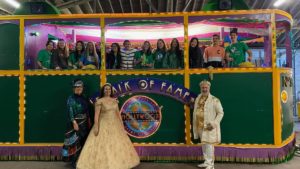 during the parade, passing out beads to the kids. That is the thing I have enjoyed most so far."
Feb. 4, the Krewe of Janus will host a noon tour of their float den, which will include a chance for the general public to hobnob with the king and queen, get an early look at the floats, enjoy king cake, and get beads.
If you can't make the tour, don't worry, you can wave to the king and queen as they pass through the parade route on Feb. 11. The parade starts at 6 p.m. in West Monroe. You can get all the details, including a route map, at the Krewe of Janus website.