Debate team repeats as State Champion
The Louisiana Tech University Debate Team made it back-to-back state championships last weekend by winning the Southern Forensics Championship at the University of Arkansas in Fayetteville, the tournament that serves as the state competition for Louisiana, Arkansas, and Mississippi.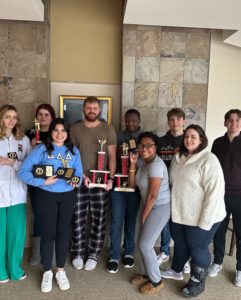 "This is getting to be a habit," Tech's School of Communication Director Dr. Brenda Heiman said, "an exceptionally good one."
Six Louisiana schools, 29 total schools, and 182 competitors took part in the tournament.
"Now we turn out attention to the National Tournament," Debate Team Coach Megan Smith said; nationals are March 23-25 at Boise State in Idaho.
In addition to being the 2023 Louisiana State Champion, the team also produced three individual state champions:
Kailee Carter, senior Accounting major, is the junior varsity state champion and junior varsity speaking state champion;
Anthony Copeland, senior Engineering major, is the informative speaking state champion; and,
Ashley Owens, non-traditional undergraduate and team volunteer, is the professional state champion.
Madison Plaisance, senior Communication major, placed in the top 16 for the entire tournament in the novice division, and Carter in the top eight in junior varsity.
The points generated by all of the remaining team members — senior Communication senior Nate Goldstein, sophomore Architecture major Alex Gibson, senior Political Science major Kaitlynn Sweeney, and alumnus Kendrick Kruskie — secured Tech's state championship win.