Prescott Memorial Library displays Phi Kappa Phi regalia
Louisiana Tech University is celebrating National Phi Kappa Phi Week with a special display in Prescott Memorial Library, Feb. 6-10.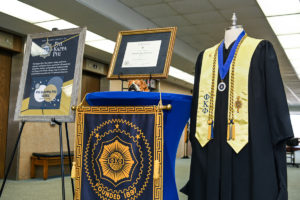 Located in the library's foyer, the display features a Phi Kappa Phi stole and medallion on a mannequin along with the licensed Louisiana Tech graduation gown. A banner, poster, and the Louisiana Tech chapter's framed charter are also on display.
"Phi Kappa Phi is a venerable institution that brings 125 years of academic excellence to our campus," said Dr. Joe Koskie, Louisiana Tech chapter president. "Its members enjoy access to a wealth of resources for everything from study abroad, to graduate school, to social engagement. Observing Phi Kappa Phi Week is a great way to raise awareness of our chapter and to promote the honor society's mission to advance the love of learning."
The display also features information about induction into the society and award and grant opportunities.
The Honor Society of Phi Kappa Phi's primary objective is the recognition and encouragement of superior scholarship in all academic disciplines. Each year the society offers fellowships, study abroad scholarships, and love of learning, literacy, and scholar and artist grants.