Stapleton family members honor parents through COE Endowment
The College of Education is important to the Stapleton family. J.J. and Pat Stapleton always valued education, and now their family has established an endowed scholarship in the College of Education to honor their commitment.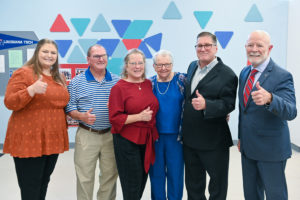 "Due to a severe case of childhood polio, our dad couldn't read or write very well," said their son, Jimmie Stapleton. "However, that did not stop him from having a full life. He showed us with his actions what was really important, faith, family, and education." Though J.J. passed away, Pat continues to live by their motto every day. After living in Baton Rouge, where they started their family, the Stapletons eventually moved to Ruston after retirement to be closer to friends and family.
"We are very grateful to the Stapleton family for their generous donation to support Louisiana students committed to excellence in teaching, especially future teachers who exemplify outstanding literacy instruction," said Dr. Donald Schillinger, Dean of the College of Education. "Endowed scholarships like the J.J. and Pat Stapleton Endowed Scholarship ensure that support for deserving students will always be available. That is an incredible gift to the future of education and a wonderful example of paying it forward."
A qualified student must be enrolled as a full-time or part-time undergraduate student, sophomore or above, in a teacher education program, preferably focused on literacy. The student may also graduate from a high school in Louisiana or Mississippi, work ten or more hours per week and have a minimum GPA of 3.0.
Catherine Miller is the 2023-2024 scholarship recipient of the J.J. and Pat Stapleton Endowed Scholarship. This scholarship will allow her to help shape young minds in literacy education and help other young educators become passionate about literacy as she is.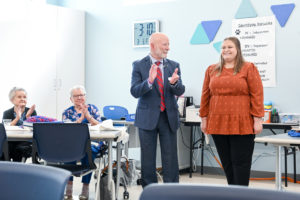 "It is our job as educators to help our students reach their highest ability while creating memorable experiences for them. It is also critical that we support the families of these children in our community so we can work together to ensure success, " said Miller.
"This scholarship is a way for us to honor our mom and dad and ensure that their legacy lives on in the lives of others for years to come," Jimmie Stapleton said. "As Dad would say, 'Get your education. That's something that no one can take away from you.'"