Tech finishes third overall, proves perfect host in ASFC Conclave
Not only did Louisiana Tech's future foresters host the 64th Association of Southern Forestry Clubs (ASFC) Conclave this weekend at Lincoln Parish Park, they also competed and finished a solid third overall against 12 other teams.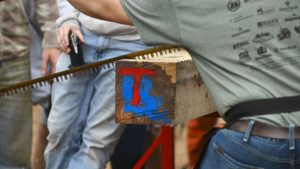 An annual event that draws schools from across the southeast to compete in forestry-related physical and technical events, the Conclave is hosted by a different school each year and helps students develop team building, camaraderie, and social skills through diverse competition and lumberjack contests.
Tech finished third to SFA and Mississippi State in Technical Events, fourth to SFA, Clemson, and Virginia Tech in Physical Events, and a strong third overall to champion SFA and runner-up Clemson in Total Overall, the culmination of a weekend that "went spectacularly," Forestry Program Chair in Tech's College of Applied and Natural Sciences Dr. Joshua Adams said.
The weather was perfect for Tech to host the event for its first time in 17 years.
Also notable was the addition of a large job/company fair on Thursday. Many of Tech's forestry program sponsors brought their corporate executives to watch and mingle with the students.
"Specifically to Tech, our students, faculty, alumni, and friends of the program pulled together over the past year to pull this off," Adams said. "The most praise should be given to the students who really ran the show with faculty supporting and guiding them. Tech should be proud of these young men and women; it points to a bright future for Tech Forestry."