Mary Caldorera-Moore inducted into the 2023 AIMBE College of Fellows
Dr. Mary Caldorera-Moore, Daniel D. and Linda D. Reneau Endowed Professor, Program Chair and Associate Professor of Biomedical Engineering Program at Louisiana Tech University, has been named to the American Institute for Medical and Biological Engineering (AIMBE) College of Fellows. She is the fifth Louisiana Tech faculty member in history and the first woman at Tech to receive this honor. Previously induced Louisiana Tech AIMBE fellows include, Dr. Eric Guilbeau, Dr. Paul Hale, Dr. Stan Napper, and former Louisiana Tech University President Dr. Daniel D. Reneau.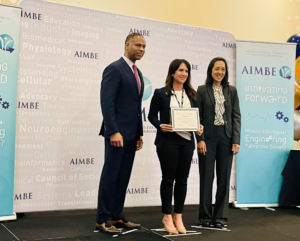 The honor places Dr. Caldorera-Moore among the top two percent of medical and biological engineers worldwide. AIMBE only elects those who have made outstanding contributions to "engineering and medicine research, practice, or education" and to "the pioneering of new and developing fields of technology, making major advancements in traditional fields of medical and biological engineering or developing/implementing innovative approaches to bioengineering education."
College of Engineering and Science Dean Dr. Hisham Hegab says that Caldorera-Moore's influence on biomedicine goes beyond her innovative research.
"Dr. Caldorera-Moore's dedication to the field of biomedical engineering shows in the results of her groundbreaking research and in her mentorship of the next generation of biomedical engineers," Hegab said. "In her research, she has moved the boundaries of biomedicine, particularly nanoparticle drug delivery systems, while also instilling a love of biomedicine in her students. I'm pleased that the AIMBE has recognized her with this prestigious fellowship."
She was honored at a formal induction ceremony held during the AIMBE Annual Event at the Renaissance Arlington Capital View Hotel in Arlington, Virginia, on March 27, 2023.
"I'm honored to have been selected to be an AIMBE Fellow and to continue Tech's legacy with the organization," Caldorera-Moore said. "I am appreciative of the great mentors I have had through the years, my collaborators, and all the students who have been a vital part of my research team. I wholeheartedly plan to use this honor as additional inspiration and motivation to continue to grow as a professional in all aspects.
AIMBE Fellows are employed in academia, industry, clinical practice, and government and are among the most distinguished medical and biological engineers including 3 Nobel Prize laureates, 17 Presidential Medal of Science and/or Technology and Innovation winners, and 205 National Academy of Engineering, 105 National Academy of Medicine, and 43 National Academy of Sciences inductees. Dr. Caldorera-Moore was nominated, reviewed, and elected by peers and members of the College of Fellows "for insightful contributions to novel biomaterials for therapeutics, and for leadership in biomedical engineering education and high school programs."
About AIMBE
AIMBE advocates for the value of medical and biological engineering to society through its mission to recognize excellence, advance public understanding, and accelerate medical and biological innovation. No other organization can bring together academic, industry, government, and scientific societies to form a highly influential community advancing medical and biological engineering. AIMBE's mission drives advocacy initiatives into action on Capitol Hill and beyond.