Kinesiology Department hosts another year of Special Olympics in Lincoln Parish
On Monday, May 8, Louisiana Tech University's Department of Kinesiology in the College of Education was proud to host the Spring Special Olympics Track Meet at the Jim Mize Track and Field Complex.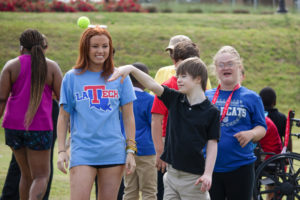 The Special Olympics provides various Olympic-type sports training and athletic competition for children and adults with intellectual disabilities.
"Special Olympics is one of the few days in these young athletes' lives that they get to perform and compete," said Lacey Deal, Instructor in the Department of Kinesiology. "So few programs are offered in our community that give them a chance to shine."
The Special Olympics partnership has created much joy for the local athletes, university student volunteers, and faculty.
"The Special Olympics is such an amazing event that I hold near and dear to my heart," said Alex Fish, a junior Kinesiology and Human Sciences major. "From plotting ideas to decorating the photo booth and blowing up many balloons for arches, everything was worth it to see the smiles on the kids' faces."
"I love going out and giving these kids an experience that they don't normally get to have," said senior Kinesiology and Human Sciences major, Jacob Thomas. "This event is a great way to raise awareness for special needs and also to just enjoy life with the kids."
This annual event is hosted each spring and includes volunteers throughout the Lincoln Parish community. Lincoln Parish schools with students from K-12 participated in the event.
Ruston High School's Special Education teacher, Mr. Robert Underwood, participated in this year's event and said, "Special Olympics is vital to our community. It promotes involvement and empowers students."
There are multiple opportunities for interested individuals and organizations to be part of this exciting and impactful day.
"We would love to have additional community volunteers join us, whether that be individuals or businesses," Deal said. "This event takes sweat and money to put together and we need help in lots of ways."
To learn more about how to become involved with the annual Special Olympics events, contact Lacey Deal at LDeal@LaTech.edu.