CIL graduate encourages reading with new book
Sarah Ryan, a 2020 College of Education and Human Sciences graduate in elementary education and mild/moderate elementary (grades 1-5), has published a new book titled "Inch by Inch – Becoming a Bookworm!"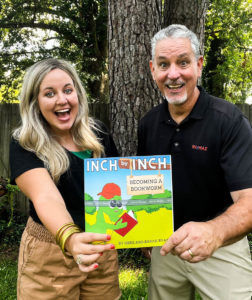 The book, co-written with her father Greg Ryan, narrates the tale of an inchworm who adores school but faces challenges in reading. With the support of his family and friends, he realizes that reading is a skill that can be enhanced "inch by inch."
"My dad and I decided to write 'Inch by Inch – Becoming a Bookworm!' out of a shared passion for education and our belief in the transformative power of reading," said Ryan. "We've always believed that reading is the gateway to knowledge and imagination."
Drawing from her experience as an elementary school teacher, Ryan observed a common struggle among students in maintaining interest and enthusiasm in their reading journeys. She and her father aspired to create an engaging, enjoyable, and educational story that resonates with young readers.
"The character of Ian the Inchworm was inspired by the concept of small but consistent steps leading to significant progress, an approach we believe is pivotal in the process of learning to read and cultivating a love for it," said Ryan. "Our book is a testament to our belief that every child can develop a love for reading, and every small step taken is a step closer to this goal."
Louisiana Tech University played a significant role in inspiring Ryan to create the book. The education she received from the Department of Curriculum, Instruction, and Leadership allowed her to understand how children learn and process information, leading her to take a new direction in enhancing children's reading skills, which ultimately resulted in the creation of the book.
"I would like to express my sincere gratitude to the community at Louisiana Tech, specifically to one of my favorite professors, Dr. Libby Manning," said Ryan. "Dr. Manning instilled in me the power of teaching essential standards through picture books, offered invaluable education through diverse learning opportunities, and encouraged me every step of the way. I will ever loyal be!"
The College of Education and Human Sciences is honored to have been a part of Ryan and her father's journey in creating the book.
"Sarah Ryan exudes enthusiasm for teaching and learning," said Manning. "As a teacher candidate in the writing methods course, I watched her stories come to life on the page as she embraced the role of an author. Like any great writer, Sarah is also an avid reader who reads like a writer, always on the lookout for tips she finds through these mentor authors. We are proud to say she calls Louisiana Tech University home."
To acquire a copy of "Inch by Inch – Becoming a Bookworm!", visit the link here.