Architectural Studies seniors win first place in 2023 Steel Design Competition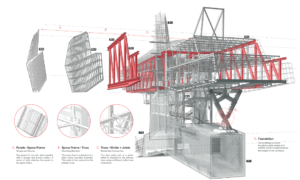 A pair of Louisiana Tech students currently enrolled in the Master of Architecture program are first-place winners in the 2023 Steel Design Student Competition, the American Institute of Steel Construction (AISC) and the Association of Collegiate Schools of Architecture (ACSA) announced recently.
Nolan Courville of Baton Rouge and YunIn Jeung from Geong Sang Nam Do in the Gimhae province of South Korea were seniors in Tech's Bachelor of Science in Architectural Studies (BSAS) program in the University's College of Liberal Arts when their entries were submitted.
Each is scheduled to complete their graduate work in May of 2024.
"I am very proud of Nolan and YunIn; their dedication and commitment to this project have been brilliantly evident and the outcomes are a testament to their exceptional efforts," Dr. Pasquale De Paola, Interim Director of Tech's School of Design, said. "They went above and beyond, investing significant extra effort into their work, and it has paid off in the most spectacular way.
"I must say that, in my capacity as their in-studio advisor, I have been consistently impressed by their work ethic, attention to detail, and their ability to collaborate seamlessly as a team," De Paola said. "This achievement is not only a reflection of their individual talents but also a celebration of their collective synergy and dedication to excellence."
The competition recognized 11 exceptional projects, in two categories, that explored a variety of design issues related to the use of steel in design and construction. The 2023 ACSA/AISC Steel Design Student Competition offered architecture students the opportunity to compete in two separate categories. Category I challenged students to design "A Place for the Spirit" on a campus, welcoming to all, where members of the campus community and visitors can learn about and express spirituality. Category II was open, offering students the opportunity to select a site and building program using steel as the primary material.
Courville and Jeung won for their Coastal Canvas entry. Here are the Juror Comments:
"Coastal Canvas is a top winning design using concise and engaging drawings. The students presented a beautiful story of the project with the board design. The level of sophistication and clarity in the diagrams and sections shows care and attention to detail. The incorporation and time spent creating a physical model elevates the design."
The AISC, headquartered in Chicago, is a non-partisan, not-for-profit technical institute and trade association established in 1921 to serve the structural steel design community and construction industry in the United States. AISC's mission is to make structural steel the material of choice by being the leader in structural-steel-related technical and market-building activities, including specification and code development, research, education, technical assistance, quality certification, standardization, market development, and advocacy. AISC has a long tradition of service to the steel construction industry providing timely and reliable information. For more information, visit www.aisc.org.