A.E. Phillips Laboratory School named a National Blue Ribbon School for 2023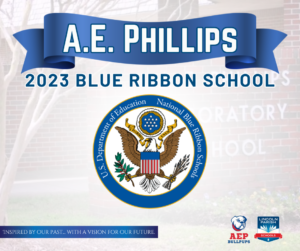 The U.S. Department of Education has named A.E. Phillips Laboratory School a 2023 National Blue Ribbon School. This award celebrates the exceptional achievements of both public and private elementary, middle, and high schools across the nation. Schools are recognized for their remarkable commitment to overall academic excellence or significant progress in closing achievement gaps among student subgroups.
AEP is honored to receive this award and Dr. Jenny Blalock, Director of AEP commends the faculty, students, and the Bullpup family. "I would like to express my gratitude for the support and encouragement that our faculty, staff, and community provide on a daily basis. Our Bullpup family is a special aspect of our school for which I am truly grateful." .
AEP is known for its strong academic focus, innovative teaching strategies, and emphasis on the arts. The school strives to be a model of educational excellence, student leadership, and service.
"AE Phillips is most deserving of this prestigious honor," said Ricky Durrett, Superintendent of Lincoln Parish Schools. "I want to congratulate the students and faculty for their hard work that has resulted in academic excellence."
"This achievement is a testament to the dedication of A.E. Phillips' students, faculty, and the entire school community," said Dr. Les Guice, President of Louisiana Tech University. "Our University is proud to be associated with such an outstanding institution and celebrate this well-deserved honor."