COES students learn skills, confidence through INSPIRE Workshop
The College of Engineering and Science Office for Women in Science and Engineering (COES OWISE) hosted the first ever "Introducing New Skills and Proficiencies through Immersive Reassuring Experiences" (INSPIRE) Workshop on September 15 -16.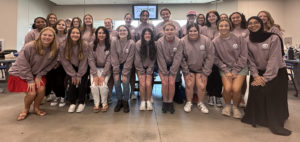 The INSPIRE Workshop, led by Dr. Krystal Cruse and Dr. Mary Caldorera-Moore and sponsored by a grant from the Alan Alda Center for Communicating Science was an engaging and immersive opportunity for first-quarter, first-year female engineering students enrolled in the introductory Living with the Lab course.
Cruse created the workshop to provide an interactive and stimulating learning experience for female engineering students in their first quarter of study. The workshop aims to help these students feel more confident using lab equipment, while also fostering connections with other women in the COES. Through the workshop, students have the opportunity to learn important engineering techniques and interact with upper-level students and faculty members.
Cruse, Coordinator of First-Year Engineering Programs and Director of the COES OWISE, and Caldorera-Moore, Interim Director of Instrumentation and Control Systems Engineering Technology and Industrial Engineering and Associate Professor of Biomedical Engineering, provided faculty mentorship during the workshop. Elizabeth Dieguez (Chemical Engineering and Mathematics sophomore of Oscar, Texas), Hylie Holloway (Biomedical Engineering junior of Homer, Louisiana), Ashton Ward (Electrical Engineering alumnae '18, Engineering doctoral student of Ruston), and Allie Smith (Biomedical Engineering junior of Albany, Louisiana) provided student and alumni mentorship to the attendees.
At the workshop, nineteen first-quarter engineering students completed two hands-on projects, each fabricating a die and a lamp. To prototype the projects, the students used machinery that they will use throughout their Louisiana Tech engineering education, especially in the Living with the Lab course series.
For the dice project, students used milling machines while engaging their creativity as they decorated and planed out each side of their die, and for the lamp project, they soldered an LED strip to a USB-C power module. They used 3D printed and laser cut/engraved parts that were fabricated were designed and fabricated in-house by Casey Kidd of the COES Prototyping Lab.
"I greatly enjoyed participating in the INSPIRE Workshop," Isabella Clardy (Chemical Engineering) said. "It allowed me to get to know some of my peers, older students, and female faculty while learning new skills that will help me inside and outside the classroom. My favorite part of the workshop was learning to use the milling machines to create the pips on a die. It was a great hands-on experience that helped build my confidence and made me more excited for the upcoming projects in my engineering class."
"I gained so much confidence after attending the INSPIRE Workshop that I have been hoping for since classes started," Olivia Richardson (Mechanical Engineering) added. "After attending, I feel like I am more comfortable in my engineering class and that I am meant to be there. While I did enjoy learning how to use the milling machine and the soldering iron, my favorite part was listening to the leaders speak about their lives as engineering students and their careers."
While incoming students learned about engineering, the College, and Living with the Lab, upper-level students let their leadership skills shine.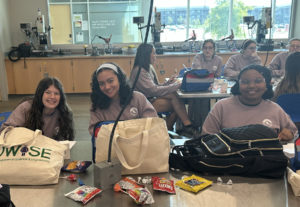 "Being a peer mentor for this workshop was such a delightful experience," Dieguez said. "We also got to meet a group of first-year students who were excited about learning how to use the machinery to prepare for the rest of their college career as engineers."
"My favorite part of mentoring for the workshop was Saturday morning when I was able to sit back and observe how some of the girls had already changed," Smith added. "Seeing them jump straight into their projects using the milling machine with confidence was pretty amazing. Seeing how some of them sat taller in their seats, smiled more, talked more, and looked generally more relaxed was great. In my opinion, INSPIRE was not just about teaching skills, but showing the girls the skills and abilities they already had but just couldn't see."
"My favorite part of the mentoring was sharing my journey from 2013 to now in engineering, including the ups and the downs that I thought they could learn from, as I mentioned previously," Ward said. "It really was a great event, and I loved meeting all the girls! I think the girls that were able to attend will be more confident in their engineering courses and in college in general because of it."
"I was very honored to be a peer mentor for this workshop because it allowed me to connect with women at the beginning of their engineering journey," Holloway said. "My favorite part of the workshop was when we did reflection questions from the workshop, and I got to talk deeply to a group of women about their long-term and short-term goals."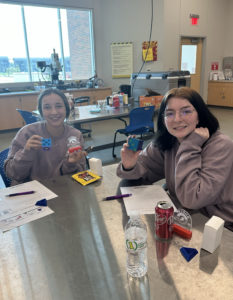 "Conducting the INSPIRE workshop was a profoundly rewarding experience," Cruse said. "Our students not only completed exciting projects but also formed lasting connections with one another."
"Dr. Cruse's INSPIRE Workshop was a beacon of empowerment, uniting first-quarter female engineering students in a transformative journey of confidence, comradeship, and creativity," Caldorera-Moore added. "Through her unwavering dedication, Dr. Cruse has created a safe haven where enjoyment and learning blend, building resilient connections that will help to better illuminate the participants' engineering path."
In addition to the grant from the Alan Alda Center for Communicating Science, the workshop was supported through funds from the COES OWISE.